Should you visit the USA or Croatia?
If you're an American deciding whether you should travel internationally or domestically, then a large part of your decision may come down to cost. Surprisingly, it is actually cheaper to travel abroad in many countries than it is to travel domestically. Croatia is a particularly affordable country to visit in Europe, and it offers visitors a unique experience in a country with an interesting history, delicious cuisine, and interesting towns.
Croatia has beautiful coastlines and fascinating old towns. If you're looking for an affordable place to visit, then Croatia is a bit more affordable than many places in Europe. It's also slightly less popular than many Mediterranean countries, but it is continuing to gain traction with tourists. Many of the more popular towns like Dubrovnik, are heavily dependent on tourists these days. Some towns have also become a common stop for cruise ships.
In general, Croatia is a beautiful country to visit that is known for its impressive old towns, delicious seafood, and vibrant nightlife. It's likely to continuing to grow in popularity with tourists in the coming years.
When is the best time to visit the USA and Croatia?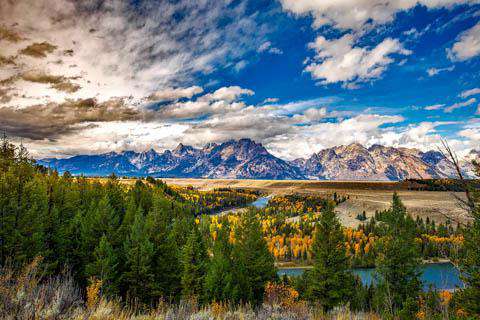 Croatia is a beautiful country to visit during the shoulder seasons (late spring and early fall). This is when temperatures are a bit cooler, but not too cold and crowds tend to be a bit less than during the peak summer months. The summer season can get crowded with travelers and cruise ship passengers and prices typically peak during these times.
Accommodation and restaurants do often close during the winter months in coastal Croatia. If you're looking for a more relaxed place to visit and don't mind a little inconvenience, then this can be an affordable time to visit. Some smaller towns can start to feel a bit like ghost towns though, and accommodation might be hard to come by.
If you decide to stay in the US, it's important to remember that it's a vast country that covers a wide variety of landscapes and climates. You can really find somewhere to visit any time of the year. The southern United States and parts of California are lovely places to visit during the colder winter months. Many cities also have interesting holiday decorations if you're planning to be in the country during that season. Summer months can become very hot in the southeast, but the northern states are quite pleasant, even during the hottest months. In general, national parks are most crowded during the summer months.
Why is the USA more expensive than Croatia?
Croatia's lower cost of living and currency keep prices affordable for travelers. Prices for accommodation in Croatia are also kept down because it's not uncommon for locals to rent out rooms in their homes. These rooms may be basic, but they're often well located and very reasonably priced. Staying in a local's home can also offer a unique perspective into the country and its culture.
Many people travel around Croatia by bus and bus tickets are usually cheaper than trains. The short travel distances between destinations also help keep prices reasonable.
In general, the US is an expensive place to travel. The high cost of living and the vast size mean that transportation costs can be quite expensive. If you really want to see a lot of the country, flying is really your best option. Amtrak is the most well known train system, but it is limited in where it goes and prices are quite high. If you want to explore the country's impressive national park network, a rental car is a must.
Hotels in the United States are also quite expensive. There are very few hostels throughout the country, particularly when compared to European countries, so accommodation prices can be more than you might expect. If you're driving, there is an extensive network of budget hotels along the interstates so prices between cities can be reasonable.
What are the most expensive and cheapest cities and regions in the USA and Croatia?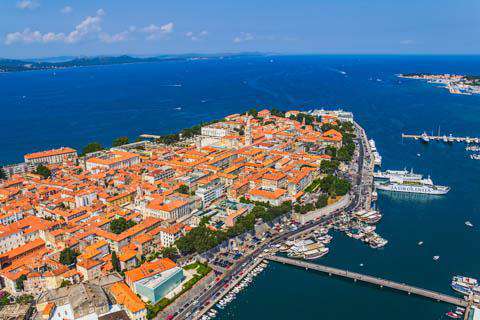 In Croatia, the most popular coastal towns tend to be the most expensive places to visit. Towns like Dubrovnik, where you'll likely see several cruise ships docked, have higher prices then more off the beaten path destinations.
In the United States, the larger cities are some of the most expensive places to visit. New York City and San Francisco are notoriously expensive because of their high hotel costs and expensive restaurants. Still, there are plenty of affordable restaurants in these larger cities so it is possible to save some money. There is also plenty of free entertainment in larger cities, which can help you keep costs down.
Other expensive destinations in the US include popular attractions like Disney World or Disney Land. It's easy to spend a lot of money in these theme parks in a very short amount of time.
How you can save money when visiting the USA and Croatia?
Travel during the shoulder season. Prices inevitably climb during the peak summer months so make sure you visit when the crowds are less.
Stay flexible. If you don't like the city you're in, or find better accommodation for a lower price, but willing to change your plans a little.
Buses are almost always cheaper than trains, so look into all of your transportation options before buying tickets.
Stay with a local. Lots of locals rent out rooms, particularly in Croatia. This is a fun and affordable way to experience the country.