The Pocono Mountains are home to some of the best and quickest vacation getaways from New York, Philadelphia, or New Jersey. This pastoral area of Eastern Pennsylvania is rich with historic towns, beautiful lakes, ski resorts, state parks, fall foliage, vacation homes, and family fun. If you're planning a weekend or even a full week in the Poconos for your next trip, then you're in luck. We've asked travel experts about their favorite activities in the area, and they did not disappoint us with their answers. Most of these activities are not just fun, they are also family-friendly, affordable, and within easy reach of home.
So, let's get to it, here are some of the best places to visit and things to do in the Pocono Mountains of Eastern Pennsylvania.
Lehigh Gorge Scenic Railway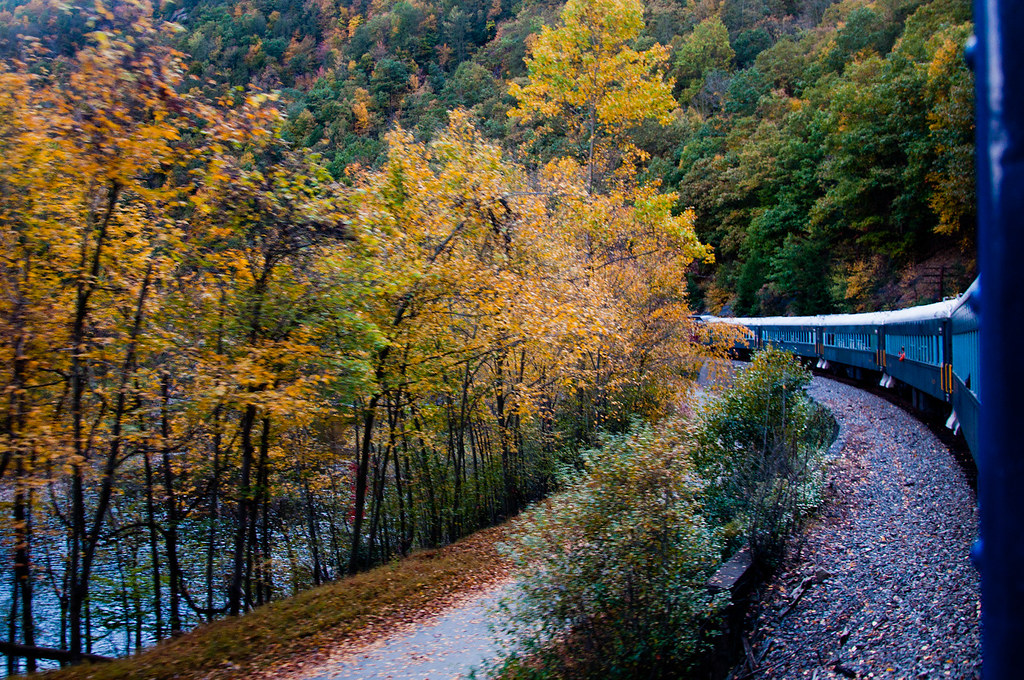 One of the most popular activities in the Poconos is a fun ride on Lehigh Gorge Scenic Railway. The train ride starts from historic downtown Jim Thorpe and ends at the town of White Haven. It is a fun and beautiful train ride through the scenic Lehigh Gorge and over the Lehigh river looking back at the Turn Hole Tunnel that you will never forget.
The main highlight is the coaches of the train which were built as early as 1917. Although most passenger trains are diesel operated, railroad often uses steam locomotives. I will recommend booking your ticket in advance during the time of fall foliage when the journey offers the best surrounding views.
The entire ride is very smooth and comfortable. The train ride is about 45 minutes(round trip) and the conductors are super friendly and informative. You will be surrounded by mountains and forests. The views of the trees across the Lehigh River are just amazing, especially during the fall season. The ride also offers a mesmerizing view of Glen Onoko Falls. If you are looking for a
romantic getaway in the US
, you must visit the Poconos mountain and enjoy this scenic railway.
The Lehigh Gorge Scenic Railway offers some special train excursions all year round such as Fall Foliage Trains, Bike Trains, Hometown High Bridge Trains, and Pennsylvania Dutch Treat Trains.
Tip:
Be sure to take a seat on the right side of the train facing the creek. I will recommend buying an open-air ticket for some extra dollar because of the better view.
And
find a place to stay in Jim Thorpe
if you want to experience the train ride.
By Trijit Mallick from BudgetTravelBuff
Hickory Run State Park
If you are in eastern Pennsylvania dilly-dallying about a weekend trip, Hickory Run State Park might just be the place you are looking for. If you are
travelling to the USA
, and Pennsylvania is on your radar, you should definitely visit this state park.
Located in the western foothills of the Pocono Mountains, this park spans nearly 16,000 acres and is a paradise for people who love the outdoors.
While there are so many things to do and see, the Boulder Field is what makes this State Park so unique. It is a national natural landmark that is definitely worth checking out.
There are many hiking trails, running trails as well as forest trails. I would definitely recommend the Hawk Falls Trail, though. It is a quick and easy hike through a rhododendron forest that ends at a gorgeous waterfall. The Fireline trail is also another nice hike that takes you to the most picturesque point of the park.
Love swimming? Then head to the lakeside beach beside the Sand Spring Lake. In addition to swimming, you can also have a picnic there and sunbathe.
In case you are planning to go in winter, you can cross-country ski the 2.6-mile Sand Spring Trail.
There is no entrance fee for this state park. And there are quite many campsites that come with all kinds of facilities.
Hickory Run State Park is a two to three-hour drive from Philadelphia or Harrisburg. It's also close to
Lake Harmony and Big Boulder Mountain
.
From Deb & Claudia at The Visa Project
Milford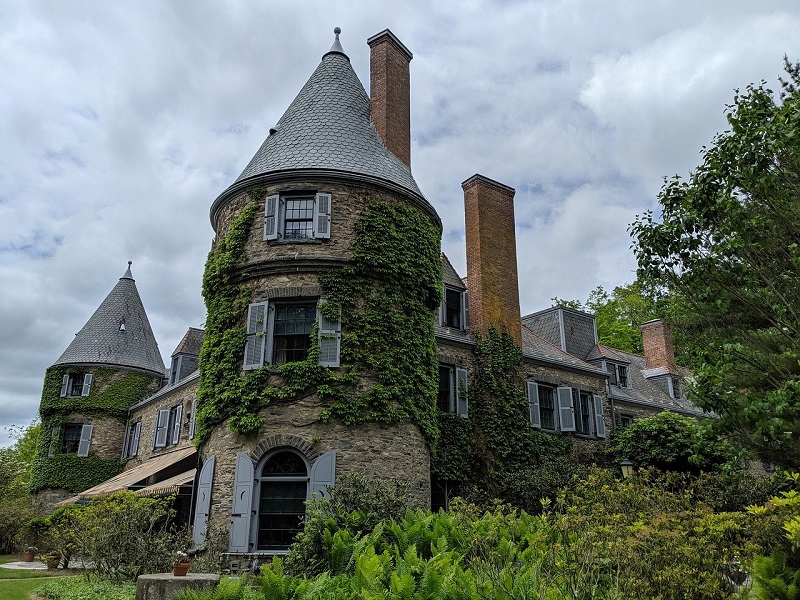 Rightfully referred to as one of the coolest small towns in Pennsylvania, Milford offers it's visitors the opportunity to explore splendid hike trails, valleys, farmlands, Victorian styled homes and a rich historic center. This quaint town draws the attention of visitors looking for a laid back vacation as well as adventures seekers. One of the best hike trails "The Knob" is perfect for soaking in mesmerizing views of the entire town comprising historical architectures, the Delaware River and dense forests surrounded by mountains from a 400 feet elevation. The three tier cascading Raymondskill falls which are the highest waterfalls of Pennsylvania state are a must
visit in Milford
. These waterfalls are a part of the Delaware Water Gap National Recreation Area and are known to be just 4 feet shorter than the popular Niagara falls.
There are many interesting festivals that take place in Milford every year. One of the most enjoyable one is the Milford Music Festival which takes place in June, when the streets of the town turn lively with live bands and orchestras. The organizers also arrange servings of drinks, snacks and ice creams for free for the visitors. It's no less than a party and celebration in Milford.
A self-guided tour at the Grey towers, a French styled chateau mansion, takes you through some scenic forest trails, wildlife and seasonal flora. Milford's historic center can also be explored at the Columns museum, which exhibits many remarkable archives from the past that also includes the real blood stained flag on which Abraham Lincoln's head was rested when he was shot at the Ford's theatre. The Upper Mill, a water power gristmill that dates back to the 19th century is also an example of the ancient times of America.
And
here are some of the best cabins in Milford
if you're looking for a place to stay.
By Anjali Wadhwa, Cheerful Trails
Stroudsburg
One of the best towns in the Poconos is Stroudsburg. Stroudsburg is very small and you can walk everywhere. Walking through the city is also one of the most fun things to do. The architecture of the buildings is lovely and the atmosphere is great. Furthermore, there are many things to do in Stroudsburg. There are museums, art galleries, music venues, many different types of restaurants, and much more. One of the best museums is the Stroud Mansion. The Stroud Mansion is a great place where you can learn about the history of Monroe County. There are local artifacts, exhibits and the mansion looks amazing. Furthermore, if you are looking for dinner, you have a lot to choose from. There are restaurants that have something for everyone's liking. For example, there are Italian, French and local restaurants. Also, one of the best times to visit the little town of Stroudsburg is in winter. Then the town becomes even more magical. There are all kinds of festive decorations decorating the trees, storefronts, and streets of Stroudsburg. If you are looking for somewhere to stay,
check out these great Airbnb's in Stroudsburg
, too. Furthermore, during that time of the year there are numerous winter activities to participate in, such as ice skating, sledding, and ice skating! Also, don't forget to go to the Christmas Tree Lighting event that happens every year!
From Dymphe of Dymabroad
Camelback Mountain
While the Poconos are known for mountains, one in particular stands out because it offers so many activities for every type of visitor. Camelback Mountain is a ski resort in the winter and a fun getaway destination in the summer, too.
During snow season, Camelback has 39 ski slopes of various difficulty levels, which makes it perfect for beginners and experts alike on both skis and snowboards. And if you're looking for family-friendly activities, don't forget about snow tubing which the kids love (and honestly, so do the adults). Many of the ski slopes are also open in the evening for night skiing, as the slopes are illuminated in fun ways.
And how can we forget about the indoor water park, open year-round? With water slides, a fun fort with water spraying everywhere, a lazy river, a wave pool, and more, this is a fantastic place to spend some time for the entire family.
Speaking of water parks, in the summer, Camelback turns into Camelbeach, an outdoor water park with slides coming down the ski slopes. With a large wave pool and plenty of activities to keep you cool in the hot weather, this is the place to be if you want to entertain the kids and have a great time yourself.
But plenty of other activities are nearby, too. Hiking, mountain biking, horseback riding, swimming in lakes, zip lining, fishing, and kayaking are all on the agenda around Camelback Mountain. The fall foliage is also terrific, so come in the autumn if you want to escape to the mountains for a weekend. Finally, plan to spend some time exploring the nearby historic towns with their restaurants and shops, too.
For a place to stay, check out our guides to finding a cabin or condo at Camelback Mountain:
-
Cabins for families at Camelback
-
Places to stay for Couples at Camelback
-
Cabins and houses for large groups at Camelback
Seven Tubs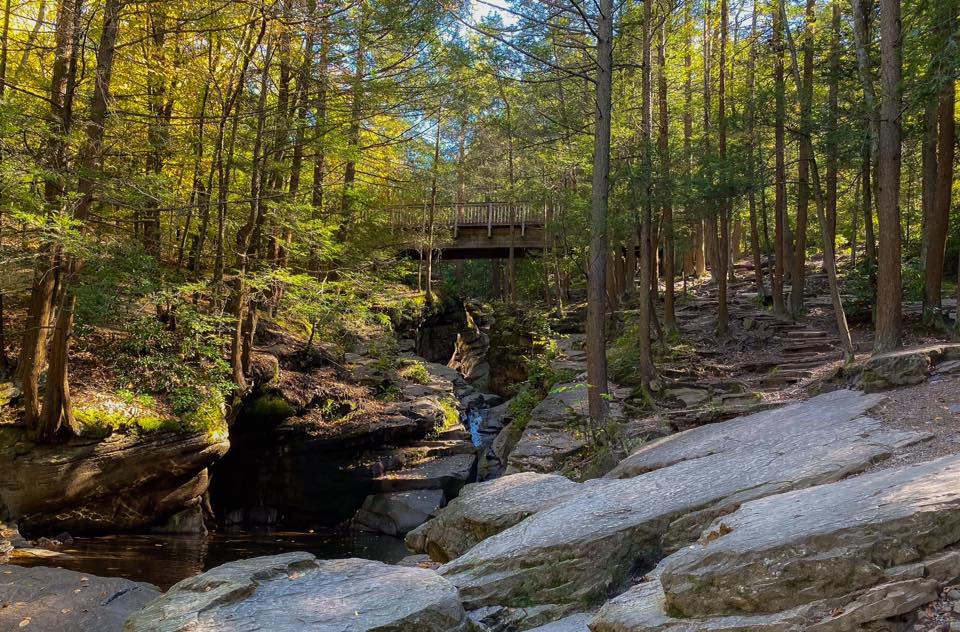 Seven Tubs Recreation Area is one of the most beautiful natural attractions in the Poconos. Like most of northeastern Pennsylvania, the area was shaped by glacial activity that left its mark on the modern landscape. Continuous flows of melting glacial water left large holes in the sandstone over 12,000 years ago. The remaining impact is a marvel of nature that attracts visitors all year long. Inside the nature area is a series of seven large depressions which create a network of waterfalls. For visitors interested in hiking around the water features, there is a scenic trail loop which is about 2 miles long. If you have mobility issues or small children, the waterfalls are close to the access point off of Route 115 between the village of Bear Creek and the city of Wilkes-Barre. It's easy to pack a picnic lunch, park the car near the entrance to "the Tubs" and walk to the flowing water that continuously fills the gorges and flows downstream. While it's fascinating to visit year round, it's also one of the best places to see
fall foliage in the Poconos
. The main hiking loop includes wooden bridges that overlook the waterfalls and the changing leaves are the perfect backdrop to the natural beauty of the moving water. Anyone visiting the area should schedule a stop at the free-to-enter nature reserve with the most unique waterfalls in the Poconos.
By Derek and Mike of Robe Trotting
Great Wolf Lodge
One of the best things visitors are able to see and do while visiting the Poconos, is simply going to one of the best water parks around the area. The Great Wolf Lodge with its indoor water park (
check prices here
) is the premiere place where kids and adults can have fun doing various kinds of water activities. At this indoor waterpark, visitors will be able to find over 16 different water activities they are sure to have fun on. From things like "Alberta Falls" which is a four story high tube ride, to the "Fort Mackenzie" which is a multi-story treehouse with splash zones, or even the "Hydro Plunge" which is a roller coaster type slide that brings out all sorts of fun, the choices are endless.
But this place isn't just known for it's waterpark activities. In fact, Great Wolf is basically a giant resort with many kinds of things you can see and do. For instance, aside from the waterpark activities, visitors will also be able to find things like a build-a-bear workshop, "Snowland" which is an area for winter activities, "Magiquest" where you'll be able to partake in a real life action game, and more. There is also dining available where you can find restaurants serving things like pizza, pasta, sandwiches, doughnuts and ice cream too!
With so many things available for you to see and do here, it's no wonder the Great Wolf Lodge is the premiere place in the Poconos for all things fun and adventure.
Located in Scotrun, this resort is very close to Camelback Mountain and other nearby attractions, which makes it a good spot to base yourself to explore the nearby activities such as skiing and hiking.
From Wayne Dang of Daily Tourist
Kalahari Resort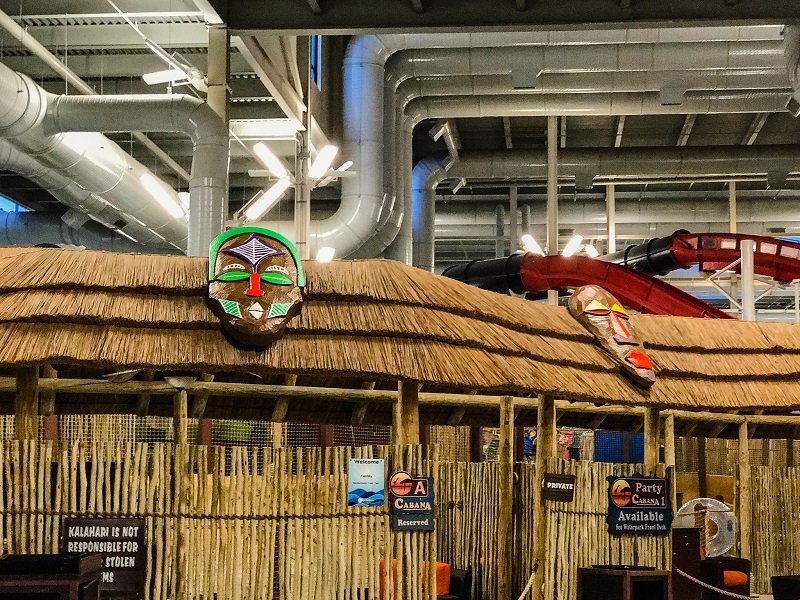 In the winter, the Poconos are known for their
snow activities on the East Coast
. One indoor thing to do when your family is tired of skiing, tubing etc., you should check out the Kalahari Resort with an indoor 22,000 sqft waterpark. In the resort, there is also a hotel, arcade, stores and restaurants. The whole thing is African themed which is fun for the kids. The Kalahari Resort is fun for a multigenerational visit because even if the waterpark is too much for older members of the family, they can still participate with the children in the arcade games and restaurants. If you have a room at the resort, then you can arrive early to use the waterpark until your room is ready.
There are a lot of water slides and pools in the water park as well as a wave pool and a lazy river. There is also a dedicated family area for very young children. We hired a cabana for our family near the family water park area so that we could corral our children in such a large space. The cabana came with a television and Wi-Fi. The television was great for the toddler who needed downtime but was not trusted with a screen device. If you want a cabana, you should book it well in advance because they are popular. Even without a cabana, there is plenty of seating around the waterpark. The Kalahari Resort operates on a wristband system which is also perfect for families. Everyone has a wristband that they can scan at the water park and also for food purchases so you don't need to take your wallet with you into the waterpark.
It's easy to spend the entire day at the Kalahari resort. Lunch was the usual theme park fare, such as burgers and fries, with the usual theme park prices. We found the locker areas clean and easy to manage. Outside the waterpark, the entertainment arcade was also a big hit with the children. In addition to the usual arcade games, there is also a little bowling alley perfect with children. The arcade games aren't cheap so luring them into the bowling alley for a bit was a cheaper activity for us!
By Shobha George of Just Go Places
Lakes in the Poconos
One of the quintessential activities in the Poconos is to visit during the warm summer months and stay by the lake. But which lake, you may ask? Well, it's hard to choose because there are hundreds! And most of them are open to swimming and canoeing. The larger ones are also open for boating and fishing, too. One of the main reasons why this is such a popular activity is because of the scenery. Many of the lakes are tucked between the rolling mountains, covered with foliage (amazing in the fall), and smooth as glass.
One of the largest is Lake Wallenpaupack, or "Lake Wally" as it's called by those who frequent often. This lake is very popular for boating, fishing, and other lake activities such as... sitting around and doing nothing at a lake house. Yes, that's right, this is the perfect getaway for relaxing and vacationing in the Poconos. Or, spend some time visiting the nearby historic towns (such as Hawley which is close by). If you need a lake house, check out
this list of the best cabins around Lake Wally and Hawley
.
Other popular lakeside areas include
Mt. Pocono and Pocono Pines
,
Skytop
,
Bushkill
, and
Lake Harmony
. All of these towns are surrounded by smaller lakes, many of which have small beaches, kayaks, and community swimming pools. You'll also find hiking, mountain biking, and other family-friendly activities in these towns, too.
Skiing and Snowboarding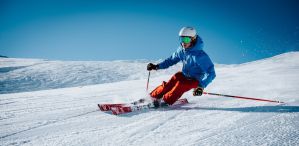 Earlier we mentioned
Camelback Mountain
, known for its fantastic skiing (and awesome summer activities). But did you know that the Poconos are FULL of winter ski resorts? From smaller mountains with just a few slopes to larger resorts with plenty of activities including snow tubing, ski lessons, and spa treatments, Eastern Pennsylvania has plenty of downhill action for everyone. Whether you're coming for a full week or just a weekend trip, here are the best places.
Big Bear
is a popular spot. It's located at Masthope Mountain right near the border of New York, northeast of Hawley and Lake Wallenpaupack. Here you'll find some good slopes along with
family-friendly places to stay
and fun activities.
Near Jim Thorpe and Allentown is the
Blue Mountain Ski Resort
. With 40 ski slopes plus snow tubing and terrain parks for snowboards, this area is very busy with activities in the winter. Plus, there's plenty to do in the summer, too.
Check out cabins at Blue Mountain here
.
Shawnee Mountain
is about halfway between Stroudsburg and Bushkill and lies near the Delaware River. This smaller ski resort has a family-friendly vibe with less crowds that many other mountains. That's what makes it quite popular with visitors coming from New York or New Jersey for a weekend trip. See the
best cabins and condos at Shawnee Mountain here
if you're looking for a good place to take your family or have a romantic couples weekend.
Near Lake Harmony are the twin ski resorts of
Jack Frost and Big Boulder Mountain
. These two resorts are essentially one as your lift ticket works with both. This area is very family-friendly, too, because kids love the snow tubing, ski lessons, and of course the indoor water park at the Split Rock Resort. You can find places to stay at
Lake Harmony & Big Boulder Mountain here
. Also nearby are the previously mentioned must-see spots: Hickory Run State Park and the Kalahari Resort.
Further Reading
For more information, check out our
average travel costs for the Poconos
here.