Heidelberg On a Budget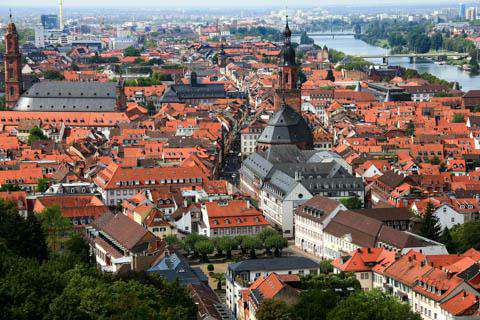 Heidelberg, in the state of Baden-Wurttemberg, is a top travel destination in Germany. It's picturesquely situated in the Neckar River Valley and is a wonderful place to spend a few days. The city has a population of over 148,000 and it's home to Germany's oldest university, the Ruprecht-Karls-Universitat, which has a student population of approximately 28,000.
Unlike most cities in Germany, during World War II the city was almost completely spared by bombings. Today it still has much of its baroque charm. The streets are narrow and lined with quaint houses. At the south side of town there are large US Army barracks that house about 30,000 US citizens. Most of them are soldiers and their families.
Heidelberg has an oceanic climate that is shielded from extreme weather by the Pfalzerwald and the Odenwald. The temperatures remain mild year around but July is the warmest month and January is the coldest.
Sights
You'll find a lot of Heidelberg's main sights concentrated around Altstadt, which is the city's main historic district. The main street through town is Hauptstrasse, which is a mile long, pedestrian only street that has some great shopping and fascinating people watching opportunities. The city's castle is a must see. It is a combination of Gothic and Renaissance styles. Although the Castle has been destroyed and rebuilt several times, it is interesting to see the combination of styles and uses through the years. There is also a park that surrounds the castle that is enjoyable to walk through. It's possible to purchase an audio tour of the castle if you're particularly interested in the details.
Other sights around town include the Thingstatte on top of Heiligenberg, the Kurpfalzisches Museum, the old university on Universitatsplatz, Jesuitenkirche, and the Heilggeistkirche church. The Philosophenweg, on the northern side of the city, has some great views of the city as does Heiligenberg mountain.
Neighborhoods
The old town in Heidelberg is referred to as Altstadt. This is where you'll find Heidelberg Castle and the Main Street, which is a mile long pedestrian only street. There are many interesting sights here and you'll likely to spend a lot of time exploring this area as a tourist. Other districts in Heidelberg include Schlierbach, Neuenheim, Bergheim, Weststadt, Sudstadt, Boxberg, Emmertsgrund, Rohrbach, Kirchheim, Pfaffengrund, Bahnstadt, Wieblingen, Handschuhsheim, and Ziegelhausen.
Activities
There are more than eight theaters in town. These include Stadttheater, the large state run theater, and Zimmertheater, which is Germany's oldest private theater.
Another popular activity is to take the train to the top of Konigstuhl Mountain, which offers excellent views of the surrounding area. If the weather is good you can see the Northern Black Forest. It's also possible to climb to the top of the summit using the Himmelsleiter (Heaven's Ladder), which is a stairway of 1200 steps.
Food and Dining
There's a surprising variety of restaurants around town with some great ethnic restaurants including sushi, Thai, and of course, pizza. There are also some great beer gardens where you can relax and enjoy a cold drink in a great outdoor setting. Some of the bars are clearly geared toward tourists, while others are more popular with the student crowds. There are also plenty of clubs and discos around town, so if you're looking for a lively nightlife, you'll likely to find it here.
One good restaurant that serves modern German cuisine is BrunnenStube. Prices are reasonable and the food is good. There are seasonal specialties and the fish or lamb are both recommended.
There are plenty of budget options for accommodation around town, including hostels and small bed and breakfasts. There are some great options in the mid range budget, and if you're looking for a splurge there are a couple of high end options as well.
Transportation
You can walk a lot of places in Heidelberg, but there's also a great, although small, system of trams and buses. The main hubs for this transit system are the main station and Bismarckplatz. You can take bus #32 or bus #33 from the main train station to the old city. There's also a mountain railway that connects four stations including the castle. It runs from the old city to the summit of the Konigstuhl Mountain and climbs approximately 400 meters.
A great option for tourists is to pick up a Heidelberg Card, which you can buy at the tourist information center just outside the main train station. The pass gives you free access to all of the city's public transportation, a lot of the museums and the lower portion of the mountain railway.
Related:
Looking for a party in
Berlin
or
Munich
?
Are you a
student or backpacker
traveling
alone through Germany
?
Find a
Contiki tour
to Europe.
Train and Bus Prices
The best prices for buses and trains in Germany
can be found on Omio
(formerly
GoEuro
). They let you search across all train, bus, and plane routes throughout the region.