Baden-Baden On a Budget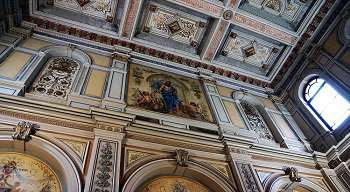 Baden Baden is the perfect spa town in Germany that lets you dip your toes in the culture, relax, and mingle with the locals all while soaking your weary travel bones in the nourishing mineral waters or sweating out the toxins from one too many German beers.
For a detailed guide on Baden Baden, including the bathhouses and spa etiquette, what else to do in and near Baden Baden and more, you can check out my complete
guide to Baden Baden for the perfect spa weekend getaway
.
Where is Baden Baden?
Baden Baden is located about 2 hours directly South of Frankfurt, making it the perfect day trip. Alternately, Baden Baden is still an easy day trip from Bavaria or other nearby regions of Germany or you can even create a whole weekend in the Black Forest, complete with Cuckoo Clock shopping and more. It's also not far from Stuttgart.
Sights
There are plenty of things to do in Baden Baden, but the main draw of the town are the two "spas." These are not spas in the sense of what many Americans think of, but instead are a system of pools, saunas, and mineral baths. Granted, at each of the spas, you can purchase additional add on amenities such as massages, facials, and other luxury pampering activities.
While these spas aren't exactly what you may think of in the traditional word, they are quite the experience. Tourists and locals alike love coming to the German Spas for the health benefits, relaxation, and socialization of the activities.
Caracalla Spa
The first spa option in Baden Baden is the Caracalla Spa. This is a great choice, especially for newcomers to the German Spa Experience.
The entire first floor is basically a glorified pool, filled with the mineral waters. There are various pools with differing temperatures, beautiful pools outside, a pool set into a "grotto" and more.
This area of Caracalla is for all ages and the tranquil environment is a great way to get into a relaxing mood.
Upstairs, you'll find the Saunas. This is where it is "textile free" (aka no swimwear allowed....aka NUDE). If this makes you squeamish, read about the nude sauna experience and how it is it is NOT a sexualized experience in the slightest here. Most people come in scared and leave feeling totally secure and happy that they got to experience a German spa.
Friedrichsbad Spa
Friedrichsbad is the Roman Baths of Baden Baden, located just next door to Caracalla. In here, there is a systematic set of rules (classic Germany) of which rooms to go into first, how long to stay in them, and where to go next. It is set in a beautiful old building complete with gorgeous facades and even a room with a huge dome. The biggest catch for many travelers? It is completely nude.
However, once you can get over those hesitations, you will be rewarded with a fantastic experience and come out feeling more relaxed and rejuvenated than you knew possible.
Where to Stay in Baden Baden
Baden Baden has a wide variety of options for where to stay. There are the expensive, lush, and pampering spa hotels, such as the Bremmer's Park Hotel and Spa, which has its own spa in house or the Maison Messner, another long time favorite for luxury stays.
However, there are
plenty of budget and midrange options
as well, such as the Hotel Quellenhof or the
Hotel Traube
, among many others. For people who are Travel Hacking on points and miles, the Holiday Inn Express and Radisson Blu are both great options to stay for free on points.
Food and Dining
If you are trying to pack as much spa time into your day as possible, you can eat at the Caracalla Spa itself, which has a restaraunt both outside and inside the main spas. The food is shockingly fantastic and priced reasonably considering it is at the spa.
If you are wanting to continue your opulent adventure, there are multiple Michelin restaurants right in Baden Baden, such as Rizzi, Heine's Wine and Dine, and Der Kleine Prinz and several more.
If you are looking for something more budget friendly, try out the delicious Pizzeria Da' Saverio and, of course, you can never go wrong with a Doner in Germany at any Doner shop.
Transportation
Like most of Germany, the town is easily accessible by the well-formed train system and you can either walk or take the buses once in town. Alternatively, it is an extremely easy town to drive into and plenty of parking garages to use while getting your daily dose of relaxation in.
The Surroundings
There is plenty to do in Baden Baden, but if you are looking for more than just a day trip, many people love finding beautiful hikes and walks nearby in the Black Forest. A great hike right in town is the Merker Bergbahn.
Another favorite activity to do in town is to hit up the local casinos and even if you are not into gambling, the inside building is worth stopping in to take a gander at.
Baden Baden is a Germany favorite of mine. Whenever I need a girl's weekend or a "Mom Day" this is where I head. I love that I can enjoy the beautiful town in as little as a day or stretch it out into a weekend with still plenty to do.
Train and Bus Prices
The best prices for buses and trains in Germany
can be found on Omio
(formerly
GoEuro
). They let you search across all train, bus, and plane routes throughout the region.