Bonn On a Budget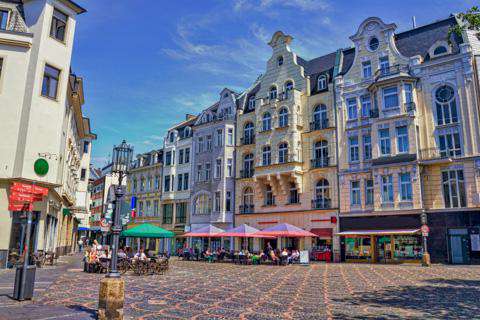 Bonn was the capital of the Federal Republic of Germany (previously, West Germany) and it has a population of about 315,000 people. It sits on the Rhine River just twenty kilometers away from Cologne. Many people travel to Bonn for conferences and business, but Bonn also has a lot of cultural and historical sights to offer visitors. The city is also famous as the birth place of Ludwig van Beethoven. There's a strong student culture in the city as well, and it actually shares many characteristics with Italian cities because of its many cafes and restaurants which line the streets. Outdoor beer gardens are popular and Bonn is a particular good summer destination when the weather is pleasant and you can enjoy the outdoor setting. The city's location also makes it a great base for day trips to Cologne, Dusseldorf, and the Rhine and Eifel regions.
Bonn has an oceanic climate. Because it is located only a few kilometers to the south of the Cologne Basin Valley, it is part of one of the country's warmest regions along the Rhine River.
Sights
Bonn has a good tourist information office that can give you maps and sell you tickets to shows. They also offer information on the many sights around town, which include Das Bonner Munster, which is a beautiful basilica, Kreuzbergkirche, which is a nice church, Poppelsdorfer Schloss and Botanical Gardens, Alter Friedhof, a historic cemetary, and Sudstadt, with many impressive buildings. Some interesting museums in the area are Beethoven-Haus, August Macke Haus, and Haus der Geschichte.
Neighborhoods
Notable neighborhoods in Bonn include the city center, Beuel, Endenich and Ippendorf, Bonn Altstadt, Poppelsdorf, Muffendorf and Schweinheim, and Bad Godesberg. The city center has a pedestrian area with a lot of shops. There's also a weekly market, many pubs and restaurants and some important historic sights. Beuel is to the east of the Rhine and connects to the city center with the Kennedy Bridge. Endenich and Ippendorf is where composer Robert Schumann once lived. The Bonn city forest is in Ippendorf and there is a children's area with animals and plants. Bonn Altstadt, or the Old Town, has an urban atmosphere. There are plenty of pubs and restaurants and many art exhibits. There are also museums, historic sights, parks, and a large flea market that is held once a month. Poppelsdorf is a classical district with lots of art nouveau houses, the Poppeldorfer Castle, Botanical Gardens, cafes and restaurants. Bad Godesberg is a famous health resort and spa, but there is much more to the area than that.
Activities
If your timing is right you might find yourself in Bonn during one of it's many festivals. Karneval, in February, is popular for its parades and festivities. Rhein in Flammen is a large fireworks display over the Rhine that takes place in May. Beethovenfest is a month long music festival that's held in September. Putzchens Markt is a fair in the city's suburbs that lasts for five days and the Christmas Market starts at the end of November and offers booths that sell all kinds of things.
Food and Dining
There are some great eating options throughout Bonn, and it is usually easy to find a meal on a budget, just go where the students eat. Student cafeterias offer cheap and healthy meals and sandwiches. The Main University Building in the city center is where you'll find the best options. Mensa is the official student canteen and they sell several dishes that are reasonably good for the price. There's also a good salad bar. They offer meals to non-students at a slightly raised price.
The bakeries in Bonn are some of the best you'll find. Germany has some wonderful bread, and in Bonn it is particularly good. You'll also find some great desserts around town as well. There are also some great cafes where you can buy sandwiches for cheap. Also make sure you check out some of the area's beer gardens, because, after all, this is Germany.
Transportation
The city center is generally small and compact, so you'll likely spend most of your time walking around. If you're hoping to venture further out, or the weather is less than ideal, then the city does have an excellent bus, tram and subway system. It is operated by the local organization, Stadtwerke Bonn, and there are ticket offices and machines at each of the major stations. You can purchase tickets as either single passes, multiple passes, 24 hour passes, or weekly passes. The tickets can be used on the local trains, subway, tram and bus systems. If you're interested in biking, then this is possible as well. You can rent a bike at the train station from Deutsche Bahn on platform 1 or from the Radstation directly behind the train station.
Related:
Looking for a party in
Berlin
or
Munich
?
Are you a
student or backpacker
traveling
alone through Germany
?
Find a
Contiki tour
to Europe.
Train and Bus Prices
The best prices for buses and trains in Germany
can be found on Omio
(formerly
GoEuro
). They let you search across all train, bus, and plane routes throughout the region.