Koblenz On a Budget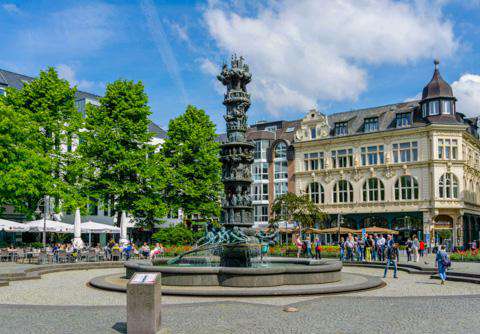 Germany's most beautiful corner, wander through this town of 2,000 years and explore the ruins of Rhine Gorge and admire the view from Ehrenbreitstein Fortress. A meeting place for people all across the globe, this town goes by many names, but you may call it Koblenz, Germany. Koblenz is situated on the banks of the Rhine and Moselle rivers and is a central German city. Amidst the low mountain ranges, a city filled with history, enriched by culture, and blessed by natural beauty makes Koblenz popular for both its historic and aesthetic value. Adorned with ancient buildings, informative museums, and breathtaking monuments, this sleepy city brings to life the tradition of old Germany. However, despite its ancient origins that loom over the city, Koblenz is also a city that has easily modernized and adapted to the demands of the present day. Malls, restaurants, bars, clubs - Koblenz is a city for both the young and old hearts. Whether you seek to explore the amazing architecture of Germany's ancestors or simply sit and sip in a cafe, the possibilities never end when you are in Koblenz, Germany!
Sights
Receiving national acclaim for its historic significance, the Deutsche Ecke, or "German Corner," is one of the most popular tourist sights in Koblenz. Established in 1216 in order to found the Teutonic Order, a memorial for Kaiser Wilhelm I's death was created. Though destroyed originally in an artillery shelling in March 1945, a reconstruction was finally built in 1993, though the head of the original monument can be seen at the Middle Rhine Museum. A 37-metre high monument, the memorial includes 14 metres of which is the equestrian statue of Kaiser Wilhelm I. In 2002, UNESCO made the Deutsche Ecke a world heritage center of the "Upper Middle Rhine Valley." However, the Deutsche Ecke is also well known as the meeting place of the rivers Rhine and Moselle and was given the name "Castellum apud Confluentes," or "fort at the confluence." The Deutsche Ecke is now a magnet for tourists across the globe, causing the memorial to receive over 2 million people per year. Due to fact that this is nothing more than a memorial sight, there is no entrance fee, and the Deutsche Ecke is open all times and days of the year. Explore the history of Koblenz at the Deutsche Ecke!
Food and Dining
Within such an ancient city and the old traditions it brings, you may find yourself looking for a taste of the modern and new. Koblenz furnishes such desires by providing a wide array of restaurants and malls, such as the Form Mittelrhein, or Forum Middle Rhine Mall. A new shopping destination for tourists and locals alike, the Forum Middle Rhine has 80 speciality stores, cafes, and restaurants all under one convenient roof. However, unlike most ordinary malls, the Forum Middle Rhine has a touch of distinction as its newest building holds a market of local and regional retailers on the first floor and are made available for all national and international travelers. This market mainly concerns itself with electronics, young fashion and gastronomy. Besides this, the Forum Middle Rhine also offers a food court where 10 caterers can most definitely satisfy your tastebuds. Some of the stores included at the Forum Middle Rhine are Bijou Brigitte, CCC, Dokter p., Douglas, Hunkemoller, and Pandora. Have a shopping experience you will never forget at the Forum Middle Rhine!
Transportation
If you are looking to explore the entirety of Koblenz, making use of the city's most efficient cable car service may not be a bad idea! Seilbahn Koblenz is a gondola lift station that allows you to hover over the Rhine and reach the fortress park or the old town of Koblenz barrier-free. Soar high above the city's tallest buildings and gaze at the brilliant landscape of the town. With each cabin able to hold 35 passengers each, bring your friends and family to explore this one-of-a-kind view. The ticket prices for a cable car of Seilbahn Koblenz run around 6.50 € per adult. However, Seilbahn Koblenz also provides tickets for families and groups. Don't only walk through, but fly over Germany in Koblenz!
As the city of Koblenz is relatively small, nearly all destinations you are looking to travel to can be traveled to by foot. On average, the walk from such locations like the central station to the city center or the old town quarter is nothing more than 10 minutes. Besides walking, you can also travel by bus to various parts of Koblenz at the central train station where it is open from 5:30 am to 11:00pm. Koblenz also provides avid bicyclists to explore the city in their favorite vehicle as bike rental shops are quite numerous, such as Fahrradverleih Koblenz and Fahrradhaus Zangmeister. Nevertheless, if you are looking to travel to Festung Ehrenbreitstein, a taxi or ferry across the Rhine river will easily take you there. Enjoy Germany's most pristine relic: Koblenz!
Related:
Looking for a party in
Berlin
or
Munich
?
Are you a
student or backpacker
traveling
alone through Germany
?
Find a
Contiki tour
to Europe.
Train and Bus Prices
The best prices for buses and trains in Germany
can be found on Omio
(formerly
GoEuro
). They let you search across all train, bus, and plane routes throughout the region.