Leipzig On a Budget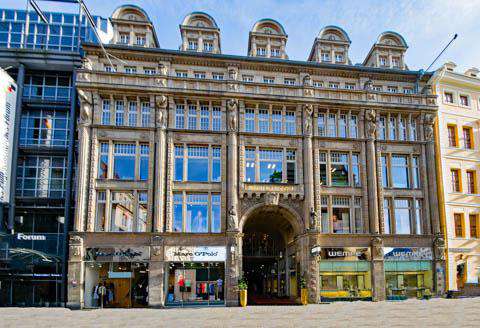 Leipzig is a city in the eastern German state of
Saxony
. Leipzig is Saxony's coolest city, called "The New Berlin" by many. It is a playground for nomadic young creatives, but it's also a city of enormous history, a trade-fair mecca and foundational in the eyes of music lovers due to its intrinsic connection to the lives and work of Bach, Mendelssohn, and Wagner. When it comes to art, the neo-realistic New Leipzig School has stirred up the international art world for well over 10 years.
Leipzig became known as the City of Heroes for its leading role in the 1989 'Peaceful Revolution', when its residents organized protests against the communist regime to help end the Cold War. While you can easily do the sights in a day or two, to really experience the place stay for longer and acquaint yourself with Leipzig's less obvious areas: drink beer on the Karli, go antique shopping in Plagwitz or hang out with the punks in Connewitz.
Sights
See the Old Town Hall. It was built in 1556 in the Renaissance style and remains one of Germany's largest. The position of the tower follows the ancient ideal of "golden mean". Located on the pretty main square of the city, it is a good orientation point. In the 18th century the tower was enlarged and it received a Baroque spire. Until 1904 the Old City Hall was home of the city administration. Then it became home of the city museum. Most impressive is the huge Banqueting Hall with Renaissance interior and the many fine works of medieval religious art: altars, paintings, wood-carved sculptures etc. Most of them were saved from churches which were deconstructed in Leipzig's surrounding. If you have a bit of luck you are allowed to visit the cellar of the building where you find the chamber of torture and the jail. Leipzig's Renaissance City hall contains a museum of city history which possesses the original of the only confirmed painting of Bach produced in his lifetime.
See the St. Thomas Church and Bach Museum. This church is where Bach worked as a cantor from 1723 until his death in 1750. His remains are buried under a bronze epitaph near the altar. See some Baroque architecture at Romanushaus and Fregehaus, and Katharinenstrasse in the city center near the tourist information center. See the Rossplatz Stalin era architecture, curved to follow the street, huge like a castle - this is Leipzig's most prominent example of the Stalin era and it sits at the Ring next to the Gewandhaus.
Neighborhoods
Zentrum (City Center)
The city center is lively and mostly pedestrianized. Loads of shopping, restaurants, business offices, and hotels as well as the City Hall, a major University of Leipzig campus and numerous cultural and historical sites.
Zentrum-West (Bachviertel)
Easy access to the city center and right beside the wonderful Johanna and Clara Zetkin parks. The entertainment and nightlife area of Gottschedstrasse is here. Bachviertel district is associated with the life and work of the composer J S Bach.
Zentrum-Nordwest (Waldstrassenviertel)
Large and diverse area with many amenities including the Zoo, Red Bull Arena, and the Rosental park. It is unique in Germany with many fine examples of Wilheim-era Grunderzeit architecture.
Activities
See a concert! Mendelssohn's orchestra still exists, but the concert hall is new. Inside is a huge painting by Sighard Gille, visible through the windows from Augustusplatz.
Motet in St. Thomas Church, Listen to the St Thomas Boys Choir performing Bach's music in its original environment. Be aware that a guest choir may sing instead at any time as the St. Thomas Choir travels a lot. Since the motet is primarily a musical form of devotion and not a musical performance for tourists, applause is uncommon and frowned upon.
Come for a festival. The Bach Festival is held in late May/early June and is organized by the Bach Museum. The Leipzig Book Fair takes place in late March. The main event is held on the fairground, but readings also take place in various locations around the city. The Wave-Gotik-Treffen Leipzig, follows Pentecost in late May or early June. It is the world's largest Goth festival and includes a pagan village, medieval market, and goth music. The Euro-Scene in mid-November is a Festival of contemporary European Theatre.
Leipzig is surrounded by several lakes, resulting from former open-cast lignite mining, that are now developed into places for various outdoor activities. You can spend a day on the beach, ride a canoe, or go fishing or scuba diving just 10 km from the city center.
Food and Dining
Leipzig has an amazing choice of restaurants offering both traditional German and local Saxonian specialties as well as International cuisine. With over 1,400 restaurants, cafés, pubs, bars, and clubs the sheer variety will guarantee something for everybody. Leipzig's "al fresco culture" gives the town an almost Mediterranean feel during the long summer months. Try specialties of Leipzig like, Lerchen, a sweet dough-wicker, sold in bakeries, Quarkkeulchen, served in traditional restaurants as a dessert, Leipziger Allerlei, a vegetable dish, and Reformationsbrotchen, a pastry, sold in bakeries in October prior to Reformation Day.
Transportation
Leipzig Car Rental Prices
Compare prices across all major rental companies:
Leipzig has been a major interchange of inter-European traffic and commerce since medieval times. After the Reunification of Germany, immense efforts to restore and expand the traffic network have been undertaken and left the city area with an excellent infrastructure. Leipzig/Halle Airport is the main airport in the vicinity of the city. Leipzig/Halle Airport offers a number of seasonal vacation charter flights as well as regular scheduled services. Leipzig Hauptbahnhof is at a junction of important north-to-south and west-to-east railway lines, so it is easy to get here from almost anywhere by train. Leipzig has an extensive local public bus and tram transport network, and like most German cities, Leipzig has a traffic layout designed to be bicycle-friendly. Leipzig is also well connected to the Autobahn system if you prefer driving yourself.
Find a
Contiki tour
to Europe.
Train and Bus Prices
The best prices for buses and trains in Germany
can be found on Omio
(formerly
GoEuro
). They let you search across all train, bus, and plane routes throughout the region.