Bavaria On a Budget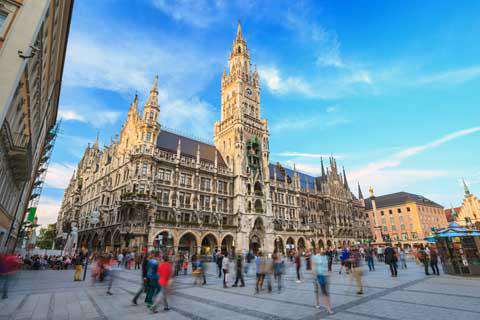 When someone says "Germany" you probably picture Lederhosen, sausages and beer. What you're actually picturing with that scene is the southern state of Bavaria. This region is like a scene from Hansel and Gretel – with stunning scenery and castles everywhere you look.
The largest federal state in Germany is home to approximately 12 and a half million people – all proud to be Bavarian. You'll find that many of the features of the Bavarian culture differ greatly from those in the rest of Germany. They know their roots and love their traditions, and they're always ready to share them with visitors.
With history, food, wine and plenty of kid-friendly activities, this is one area of the world where there really is something for everyone.
Sights
With rich culture infused in every building around Bavaria, the greatest sights are still the natural ones. The Bavarian Alps span from Munich to the Austrian region. In some areas, the peaks can reach 3,000-meters. The glacier-carved valleys and high plateaus mean every traveler will find a view to leave them breathless. This is a perfect spot for leisurely strolls or challenging climbs.
There is no doubt that if you're in Bavaria, you're visiting Munich. The capital of this region is home to some of Germany's top tourist attractions including the city's central square known as Marienplatz, important churches like the Cathedral of our Lady, and endless shopping opportunities. If you happen to be making your trip in December, don't miss out on the famous Munich Christmas Market
The ultra-charming city of Lindau is home to the picturesque Old Town, a harbor full of restaurants and shops and the old lighthouse. The city's historical streets are full of Renaissance and Baroque homes – including the town's main street Maximilianstrasse which is includes arcades, fountains and cafes.
For the history-loving traveler, there's the ancient town of Nuremberg. The second-largest city in Germany is home to the National Germanic Museum. While here you can visit and browse over a million unique artifacts from Germany's rich history including historical documents, a fine arts archive and a collection of paintings from every major period.
Regions
The state of Bavaria is divided into five regions. In the north of Bavaria is the region of Franconia. It was once divided into separate smaller states until Napoleon combined them all. The remaining four regions are known as Bavarian-Swabia in the west, Upper Palatinate in the northeast, Upper Bavaria in the south, and Lower Bavaria in the east.
Activities
You'll certainly want to take a trip to the Bavarian Forest along the border of the Czech Republic and Germany. This region is home to one of Germany's most popular ski regions, but for the most unique view of the forest try the Tree Top Walk. Located in Neuschonau, this walk travels over a 500-meter-long wooden ramp built over tall trees for unforgettable views.
If you rent a car, you'll certainly want to take it for a spin along the German Alpine Highway. This 450-kilometer road runs from Lake Constance through the Bavarian Alps to Berchtesgadener Land. Just cruise this road for picturesque scenery and unbeatable stops along the way.
Food and Dining
Real Bavarian food is what you picture when you picture German food. You'll want to try the roast pork known as "Schweinsbraten," and all the various sausages. The "Bratwurst" is arguably the most famous, and the "Nurnberger Bratwurst" is likely the smallest sausage in Germany, and the "Weißwurst" is a sausage made of veal.
If you visit the southwestern part of Bavaria, you'll have the "kasspatzen" made with Bavarian cheese.
No matter where you travel within Bavaria you'll find delicious dishes – especially enjoyable for those who love their meat!
Transportation
If you're traveling between larger towns and cities throughout Bavaria, trains are your best option. You can buy the Bayern-Ticket giving you all-day travel within the region.
If you're venturing into the Bavarian countryside, however, it may be beneficial to rent a car. While the roads are generally well paved, the roads can be winding, tricky and can cut through the farmland.
Of course, if you're travelling around the smaller cities in Bavaria, walking is always recommended. Take a stroll and see what you discover.
Related:
Looking for a party in
Berlin
or
Munich
?
Are you a
student or backpacker
traveling
alone through Germany
?
Find a
Contiki tour
to Europe.
Train and Bus Prices
The best prices for buses and trains in Germany
can be found on Omio
(formerly
GoEuro
). They let you search across all train, bus, and plane routes throughout the region.