Stuttgart On a Budget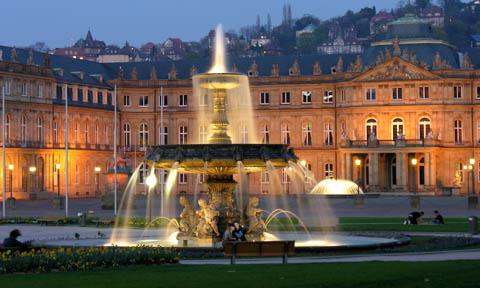 Stuttgart is a large city in southern Germany, notably famous for being the headquarters to some auto industry giants such as Porsche and Mercedes-Benz. The population of the city proper is about 600,000 and there are two and half million people in the metropolitan area. The city dates back to the 10th century and today it is a large city that still maintains a small town vibe. The local residents are quite friendly and eager to welcome you to their city. They are also very accommodating if you do not speak German, so you can always expect a little help with translation if it is needed.
Stuttgart has an oceanic climate that is relatively warm, particularly in the city center during summer months. It is prone to snow and cold weather during the winter months. Summer temperatures average around 20 degrees Celsius and winter temperatures hover around the freezing mark. Snow is not uncommon and snow cover typically lasts for several days after a storm.
Sights
Major sights in Stuttgart include the
Mercedes-Benz museum
and factory. You do need to book ahead to visit. The factory can be reached by taking the S-bahn to Boblingen. From there you can catch a courtesy bus, or it is possible to walk from the Neckarpark station. You can also visit the Porsche Museum, the art museum Kunstgebaude, or the natural history museum, Staatliches Museum für Naturkunde Stuttgart. The state gallery, Staatsgalerie Stuttgart, is free if you visit on a Wednesday or Saturday. There is also some interesting architecture throughout the city, although many of the historical buildings were destroyed during World War II.
Neighborhoods
In total, Stuttgart is divided into 23 city districts. Five of these are inner districts and 18 are outer districts. The inner districts are Central Stuttgart, Stuttgart North, Stuttgart East, Stuttgart South, and Stuttgart West. Central Stuttgart is located in a valley. The city has surprisingly large parks and gardens and many pedestrian walkways. There is great shopping, interesting historical sites, and plenty of restaurants throughout the city center. This is where visitors will likely find the most interesting attractions.
Activities
Stuttgart is a large city and has a lot to offer visitors in the form of entertainment. You can enjoy anything from theater shows, to music concerts, or movies. There are also many festivals that are hosted by the city throughout the year. Popular festivals include the wine festival in September, Bohnenviertelfest in July, and the Stuttgart Summer Festival in August.
If you're traveling as a family then
Wilhelma
, the zoological and botanical gardens, is interesting to visit. You can see everything from monkeys to exotic flowers. The landscaping is impressive as is the architecture.
South of Stuttgart is the Black Forest and many other places to see. One of the best attractions is
Hohenzollern Castle
, which is located on a scenic hill and makes for a great day trip.
Food and Dining
There are many affordable food options in Stuttgart. You can get some great Turkish doner kebabs at any of the stands that are spread throughout the town. You'll also find the standard fast food chains and some great international restaurants that are cheaply priced. Pizza and sandwiches are always a cheap go to food option and they are readily available almost anywhere. If you're looking for more than fast food, but cheaper and faster than a formal restaurant, head to a canteen. They can be busy and crowded, but they offer hearty and tasty meals at a reasonable cost.
Traditional restaurants offer a variety of German specialties. They can range in price from affordable to quite expensive, and the quality is also variable. Make sure you try the spatzle or knodel as a side dish. If you're a vegetarian, your options will likely be limited and you will probably do better trying an international restaurant.
Transportation
The inner city area in Stuttgart is very walkable. If you need to go a further distance, the U-Bahn subway system is a great option and quite efficient. If you're headed into the suburbs it's easy to hop on the S-Bahn and make a smooth and quick trip at a low cost. The system is fully integrated and a ticket can be used on buses, trains, or trams. There are seven S-Bahn lines and 12 U-Bahn lines. Most lines connect at Hauptbahnhof. There is also an old cable car that runs from Stuttgart-Heslach to the cemetery.
In general, taxis are expensive in Stuttgart. If you're traveling late at night with a group, this may be your best option though.
Related
Looking for a party in
Berlin
or
Munich
?
Are you a
student or backpacker
traveling
alone through Germany
?
Find a
Contiki tour
to Europe.