Nuremberg On a Budget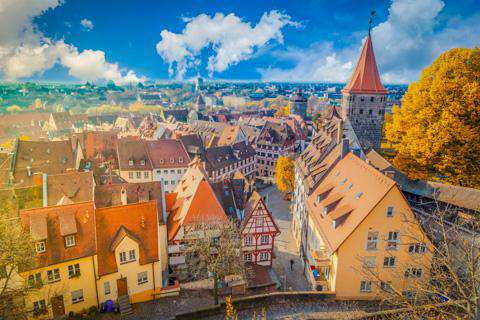 Located in Bavaria, Nuremberg is the region's second largest city. It is positioned on the banks of the Pegnitz River and the Main-Danube Canal, about 100 miles from Munich. Nuremberg is famous for a handful of things, including gingerbread, Christmas, and the Nuremberg Trials. The old town itself is beautiful, with gothic churches and impressive castles. It has quaint streets lined with beautiful houses and an old world atmosphere.
Nuremberg has an oceanic climate. The city's inland location and high altitude mean it can experience a range of temperatures. Winters are often cold with average temperatures hovering around freezing. Summers are often warm. Rain is spread throughout the year, although February to April may be slightly drier and July a little more damp.
Sights
Nuremberg's old town is filled with plenty of historical sights, but part of the city's charm is simply wandering through its streets. The sights you should make a point of visiting include the castle and its corresponding museum. You can also see about four kilometers of the city's original walls which are still standing today. Also swing by some of the older churches such as Saint Sebald Church and Saint Lawrence Church. Also visit the Art Bunker and Nurembergs Underworld. Sights in the suburbs which are interesting to visit include Reich Party Rally Grounds, the Zoo and Dolphinarium.
Neighborhoods
Nuremberg's Old Town area, Altstadt, is surrounded by the old wall. The area is quaint and pleasant to explore. It has most of the traditional sights of the city and is likely where you will spend most of your time as a tourist. The eastern part of the Old Town is called Egidienviertel. This is where you'll find Egidienkirche, a 17th century baroque-style church. Nordstadt is just north of the city wall. Streets in this area have architecture that is more reflective of the 19th century. This is also where you'll find Stadtpark and several great restaurants. To the west of the Old Town is St. Johannis. Here there are some nice flats and some good restaurants. The most famous sight in this area is Johannisfriedhof. Other neighborhoods in Nuremberg include Gostenhof, Sudstadt, Knoblauchsland, Dutzendeich, and Langwasser.
Activities
Nuremberg hosts many festivals and events throughout the year. Some popular ones include Volksfest, Altstadtfest, Rock im Park, Klassik Open Air, Bardentreffen, and Blaue Nacht.
Nuremberg is also a popular travel destination during the Christmas season. In addition to being famous for its gingerbread, the city also hosts a very famous Christmas market. Christkindlesmarkt, as its called, is held every year from the Friday before the first advent Sunday until December 23rd. This tradition dates back hundreds of years, and there really is no better way to put yourself in the Christmas spirit. There is even a traditional opening ceremony that attracts crowds who come to see the town and participate in the festivities. The event gets particularly crowded on weekends, so it is best to come during the week if your schedule permits.
Food and Dining
There are plenty of restaurants around town, and if you're on a tight budget, bratwursts are a cheap option that are available everywhere. Bratwursts in Nuremberg do tend to be smaller, so you will likely eat more of them. If you order them in a restaurant, they are usually served with sauerkraut or a potato salad. Other budget food options include food stalls and fast food restaurants, both of which are readily available around town. In particular, head over to KonigstraBe, between the main station and old town. There you'll find the highest concentration of budget eating options. There are also some great mid-range restaurants as well that offer anything from sausages to crepes.
Transportation
The most common way to reach Nuremberg is by train and the train station is located just beside the old town area. This makes arriving as a tourist quite easy because you can simply walk to the most interesting part of town. Alternatively, if you fly into the Nuremberg Airport, you can take the subway into town. There is also a bus station with many connecting buses so that is an option as well.
You'll likely spend most of your time in Nuremberg's old town area, which can easily be explored on foot. To get anywhere else in the city there is a good public transportation system or you can take a taxi. Taxis are usually reasonably priced. There are several subway lines in the city and five tram lines. There are also many different bus routes. Most of the subway and tram lines meet at the main station, Hauptbahnhof.
Related:
Looking for a party in
Berlin
or
Munich
?
Are you a
student or backpacker
traveling
alone through Germany
?
Find a
Contiki tour
to Europe.