Bremen On a Budget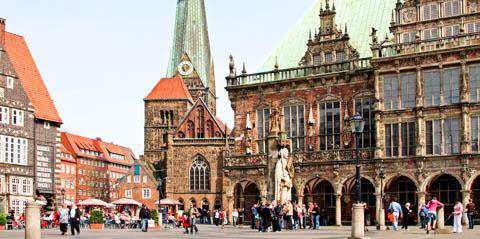 Located in northern Germany, Bremen stretches along the River Weser. It has a population of over half a million and was once a member of the medieval Hanseatic League. It is a long and narrow city that runs along both sides of the river. It's about ten kilometers long, but is rarely more than two kilometers wide. With sites such as the Cathedral of St. Peter and Rathaus (the town hall), Bremen has a very historical atmosphere. The city itself dates back 1200 years. The sights are concentrated around the city's old town, Altmarkt and the main square is home to the Roland statue among other old and famous architectural gems. While visiting Bremen, try some of the city's famous candy, Kluten, and wash it down with some Beck's beer, which is also local to Bremen.
Bremen has a moderate oceanic climate because it is not far from the North Sea. There are occasional heat waves in the summer, or long periods of cold weather in the winter. In general the temperatures remain relatively mild though. Winters can be cloudy and gloomy and sunshine is rare. Rain falls evenly throughout the year but snowfall varies significantly from year to year. June, July and August are the city's warmest months and the coldest time is between December and February.
Sights
Sites around town that are of interest include the Cathedral of Saint Peter, Roland, a statue in the main square, Die Bremer Stadtmusikanten, and the lovely park of Am Wall. Also make sure you wander through Schnoor which is an area with many twisted streets that are lined with quaint shops. Also take a stroll down the art nouveau street, Bottcherstrasse. In addition to its fascinating character, the street has many shops and museums you can wander through.
Neighborhoods
Neighborhoods in downtown Bremen include Viertel, Neustadt, Findorff, and Schwachhausen. In Bremen-Nord the neighborhoods include Vegesack, St. Magnus, and Schonebeck.
Activities
Many people simply enjoy walking around town and taking in the atmosphere. There are also a handful of interesting activities you can enjoy. If you like football, try to catch a match of Werder Bremen. You can also visit Universum Bremen where there's a hands on science center. Also try to visit Burgerpark, which is located right in the middle of the city. You can sip a drink at Emma Cafe or rent a boat for the afternoon.
Popular festivals in town include Eiswette in January, Carnival in February, the Easter Market in April, The Vision Parade and Breminale Art Festival in June, the International Bremen Summer in August, Freimarkt in October and the Christmas Market in December.
Food and Dining
If you're looking for a restaurant or cafe, head to the Schlachte area by the Weser River. Another popular option is Viertel south of Kunsthalle. In either area you're likely to find plenty of local specialties such as Labskaus, a meal that includes mashed potatoes, corned beef, onions, fried egg and beetroot or chick ragout. The region is popular for cabbage, which you're likely to find incorporated into many meals. Another popular option is fish, which can be found in most restaurants around town.
Bremen is also where the world known Beck's Beer is brewed. There are guided tours of the brewery that are available in both English and German. These tours must be booked in advance. If you're interested in wine, try the Ratskeller, which is a wine cellar and restaurant with an excellent collection of wines. The Schuttinger Brewery House is a great place to try different beers and pretzels. It's located next to Bottcherstrasse.
Transportation
The parts of Bremen that are of greatest interest to travelers are easily reached by walking. If you're staying in the old city and its surrounding neighborhoods then walking is the best way to explore. If you're hoping to go further out you can take a taxi or a bus, and there is also a decent rental bike program.
The city offers a car sharing program but you must belong to the Cambio network in either Belgium or Germany. There is also a good public transit system that includes streetcars and buses. It's easy to pick up a taxi almost anywhere as well. The two main companies around town are Taxi-Roland and Taxi-Ruf. Prices are comparable. Bikes are available for rent at the train station and through several bike shops around town. Bremen is a very bike friendly city and the former mayor was an avid cyclist.
Related:
Looking for a party in
Berlin
or
Munich
?
Are you a
student or backpacker
traveling
alone through Germany
?
Find a
Contiki tour
to Europe.
Train and Bus Prices
The best prices for buses and trains in Germany
can be found on Omio
(formerly
GoEuro
). They let you search across all train, bus, and plane routes throughout the region.