Chennai On a Budget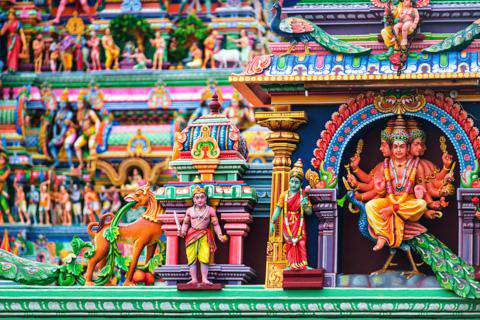 Formerly known as Madras from its colonial history, Chennai today is one of India's largest cities and capital of the Indian state of Tamil Nadu. It is located on the Bay of Bengal in southeastern India with an extensive stretch of sandy beaches, plenty of dining and shopping, a number of historic temples, monuments, and churches, plus amusement parks and more.
Sights
With roots as a British military garrison and East India Company trading outpost, Chennai is home to Fort St. George, built in 1644. Now a museum, the fort houses military memorabilia and other artifacts evident of the city's colonial past. Also situated in the fort is St. Mary's Church, one of the oldest surviving churches built by the British in India. Other impressive churches include the Basilica of the National Shrine of St.Thomas, St. Thomas Mount, and St. Matthias Church.
Temples of the Hindu religion are also prevalent throughout Chennai. One of Chennai's oldest and best-known temples, Kapaleeswarar, is said to date to the 8th century. Thousands of worshippers visit the temple regularly, which is famous for its 37-meter gopuram, or entrance gate, carved with intricate detail. Other popular temples include Karaneeswarar Temple dedicated to Shiva and Parthasarathy Temple dedicated to Lord Krishna, amongst many others.
Though the city is host to many miles of beaches, they are not swimming beaches due to strong under currents along the shoreline. Marina Beach is the longest at 12 kilometers, and features hundreds of vendors selling food, refreshments and souvenirs, a light house with panoramic views of Chennai, as well as an aquarium and a swimming pool.
Other impressive sights include the Big Mosque constructed by Wallajah family in 1795 and the Valluvar Kottam memorial dedicated to one of the renowned poets and saints of the region, Tiruvalluvar. The Government Museum and National Art Gallery are also worth visiting for unique insight into the city's rich history.
Neighborhoods
One of Chennai's more popular neighborhoods is Georgetown, which grew around the St. George fort. The area features mazelike streets where one can find shops specializing in specific kinds of merchandise such as fireworks in Badrian Street and paperworks in Anderson Street. In addition to being a prime area for shopping, Georgetown is also a great place to explore to get a feel for Indian culture and life. There are plenty of markets to wander with items including palm leaf goods, bronze and brass castings, jewelry, stone carvings from the nearby town of Mamallapuram, textiles, and silks from Kanchipuram. As far as commercial shopping goes, the best malls in the city are Chennai Citi Centre and Spencer Plaza.
Activities
In addition to visiting the sights mentioned earlier, it is also common for visitors to book unique tours to experience different aspects of the city. Some of these might include food tours for sampling the flavors of south Indian cuisine, as well as eco tours for getting lost in the natural environments around Chennai.
Also popular are zoos and eco-parks, one of which (Guindy Snake Park) features a number of snake species, lizards, crocodiles, and turtles. It is next to Guindy National Park, which is nearly 280 hectares, inhabited by more than 20 species of trees, about 14 varieties of shrubs, and more than 14 species of woodland mammals, as well as species of rare birds and amphibians.
Other activities include music and dance performances at the Sabhas or "concert houses" during Madras Music season, and visiting the cinemas which include the Abirami Complex, Albert and AVM Rajeswari.
Food and Dining
South Indian cuisine, also referred to as Dravidian, usually consists of (mainly vegetarian) dishes eaten with steamed rice. The traditional way of eating a meal involves being seated on the floor with the food served on a banana leaf, using the fingers of the right hand to eat, no utensils. Cooking of the Tamil Nadu area is famous for using a variety of spices to add flavor to main ingredients like rice, lentils, and legumes. One common dish, Biryani, is a type of fried rice with masala cooked with vegetables or meat. Special varieties include Ambur biryani, served with dhalcha (a sour brinjal curry), and Dindigul biryani which uses a little curd and lemon juice to get a tangy taste. Coffee and tea are the staple beverages. Being a major city, Chennai has dining options for all tastes and budgets, from street food to quality restaurants.
Transportation
As far as flying goes, Chennai International Airport is the fourth busiest in India after Delhi, Mumbai, and Bangalore. It provides both domestic and international services, with well-established connections to London, Frankfurt, Singapore, Malaysia, Middle East, New York, Hong Kong, and others. The cheapest way to get from the airport to the city is to take the suburban train to the Chennai Park and Egmore stations. The station near the airport is called Tirusulam and is about a 500-meter walk. The Chennai metro and taxis can also provide services from the airport to the city.
By train, Chennai Central and Chennai Egmore provide long distance transportation. Central has daily trains to and Bangalore, Mumbai, Coimbatore, Delhi, Hyderabad, Kolkata, Ahmedabad, and most other major Indian cities. Egmore has trains which cover places in the state of Tamil Nadu and also a few important stops outside it.
Chennai also has one of Asia's largest bus stations, Chennai Mofussil Bus Terminus.
Related:
Looking for a
hostel in Delhi
or
Goa
? Heading to
Kathmandu
or want a
party in Tel Aviv
?