Big Sur On a Budget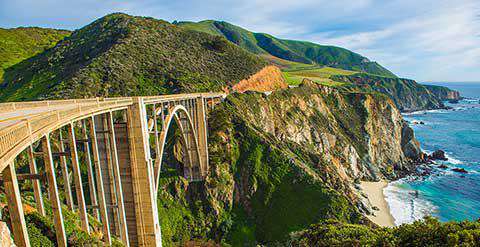 Big Sur is the 90-mile stretch of the California Central Coast which runs from the Carmel River in Monterey County south to San Carpoforo Creek in San Luis Obispo County and 20 miles east into the Santa Lucius Foothills.
However you look at it, California's Central Coast is beautiful and undoubtedly a huge tourist trap. If you're not willing to fork over big bucks for overnight stays on coastal hotels, be prepared ahead of time with your camping gear and get ready to go off the beaten track to avoid crowds as best you can and save your wallet.
While the weather in Central Coast is overall, mild and temperate, between 50 and 70 degrees year-round. The highs and lows during the year are in August and January, respectively, with dry summers and wet winters, making April through October the best times to visit but be warned: there will be crowds.
Sights
While some may argue that a day is enough to see the sights of Big Sur, those who love natural scenery will feel that breezing through defeats the purpose of taking a breather from the noise of the city.
From the north of Big Sur, travelers can spend hours taking in a meal and exploring the picturesque town of
Carmel-by-the-Sea
. Art-lovers may want to spend extra time to check out the many art galleries and theaters while those who love animals will enjoy viewing the seals, sea lions and otters in their natural habitat at Point Lobos. The San Carlos Borromeo de Carmelo and Carmel Missions are great for history buffs. Carmel also offers some of the best surfing, windsurfing and kitesurfing, with gentle waves fit for beginners and is also a world-class scuba-diving spot.
A coastal drive southward will take you to the engineering wonder of historic
Bixby Bridge
, a perfect photo opportunity with clear blue Pacific waters that deserves at least a short stop out of the car. The bluff trail in
Andrew Molera State Park
is a much less-touristy hike and trekkers who are up for a challenge will enjoy the 9-mile Ridge hike, which requires river-crossing.
Big Sur Station is sure to astound with its beautiful roads, natural terraces and a butterfly garden.
Julia Pfeiffer Burns State Park
may be crowded, but for good reason, so arrive early for a quiet morning, you may get lucky and see some whales. Within the park, McWay Falls boasts untouched natural beauty for one of the most idyllic waterfalls that drops right into the ocean. Save yourself $10 by parking on the roadside and walking down.
Limekiln State Park
is less crowded and a perfect place to take a short and easy hike through lush ferns, giant Redwoods, historic limekilns, and babbling brooks that lead down to the ocean.
Further south is the historical
Hearst Castle
, a beautiful collection of well-kept mansions as well as Hearst Ranch where visitors can view zebra among a few species of wild animals left on the property. At the very south of Big Sur is San Simeon, featuring the Elephant Seal Rookery and the rainbow-colored Moonstone Beach.
Food and Dining
If you're looking for a fine dining experience, Sierra Mar features beautiful cliffside ocean views and delicious halibut, fancy sweetbread BLTs with heirloom tomatoes, as well as a prix fixe menu for adventurous palates. Meanwhile, Deetjan's Restaurant on Big Sur Inn grounds is a popular spot for brunch, known for their blueberry pancakes, stuffed French toast and eggs benedict at moderate prices. Diners rave about the juicy tri-tip sandwiches and wide selection of wines at Bruno's Market & Deli. Try the almond croissant at the Lafayette Bakery and Cafe, popular for their quiche, baguettes, and pastries at budget-conscious prices. If you're willing to spend a little more, the Big Sur Bakery is famous for its breakfast pizza, 9-grain pancakes and has a wide variety of pastries, as well. Big Sur Roadhouse is another moderately-priced restaurant with a romantic ambiance, serving steaks, seafood and burgers using locally-sourced organic ingredients. Be sure to try the chicken lollipops and drop in for their happy hour.
Hotels - Where to Stay
If money is no object, the Post Ranch Inn in Sierra Mar possesses, hands-down, the most beautiful views, complete with an infinity pool on a cliff side and perfect for stargazing.
The charming Blue Sky Lodge not only has a swimming pool, hot tub, ping pong table and cable television for those who want to comforts of home but is also pet-friendly and is just steps away from Carmel Village. Just a 2-minute walk from Carmel Beach, the Sandpiper Inn-by-the-Sea is a cozy beachside bed and breakfast featuring a firepit, beautiful flower gardens, and a no kids under 12 policy, ensuring a quiet and romantic stay at a moderate price.
Further from the coast in Big Sur, the Ripplewood Resort is surrounded by redwoods, nearby the Juan Hiquera Creek with a local and convenient market and restaurant. With each cabin featuring a full kitchen and fireplace, guests can enjoy a quieter and more secluded getaway in the woods at a lower price.
If saving money is a top priority, campsites are available for $15 a night on federal land, a ways away from Highway 1, some of which require no reservations. Check private campsites and State Parks before you go, though you might get lucky as some campsites are first-come-first-serve and do not require reservations in advance.
Transportation
Because there is so much to see, renting a car so that you can go at your own pace is the best way to see Big Sur.
However, if car rental is not an option, tour companies like Big Sur Tours and More take groups of up to 4 people around Hearst Castle, Morro Bay and around the Monterey Peninsula. The Monterey-Salinas Transit public bus also runs from Monterey to Nepenthe Restaurant just a few miles south of Big Sur Station.
Related:
Looking for a
party hostel in Las Vegas
or
San Diego
? Traveling alone to
NYC
or
LA
? Want a budget hostel in
San Francisco
?