Durham On a Budget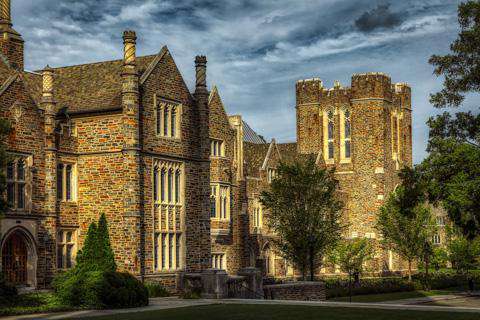 Durham is a city in central North Carolina with about 230,000 residents. Together with Raleigh and Chapel Hill, it forms the Research Triangle area. Durham is often referred to as the "City of Medicine" and is home to the famous Duke University.
Durham's history is rooted in tobacco. The Duke family established American Tobacco, which controlled 90% of all cigarette production in the US during the second half of the 19th century. The family donated money to Trinity College, which changed its name to Duke University in 1924.
Today much of Durham's economy is centered around the university and Research Triangle Park. The area has many technology and pharmaceutical jobs and the economy continues to grow.
Sights
The most famous attraction in Durham is Duke University. This private university has a beautiful campus with Gothic architecture. The most identifiable landmark is the 210 foot tall chapel that stands at the center of campus. While Gothic architecture defines the university's West Campus, the East Campus is 1.5 miles away and has Georgian-style architecture.
Duke is also home to the Duke Lemur Center. The center provides tours by appointment only and you must schedule your tour at least two weeks in advance. Also near campus is the the Nasher Museum of Art.
Another highlight of a trip to Durham is a visit to the Museum of Life and Science. This museum is perfect for adults and kids alike and offers physics displays, space vehicles, farm animals, a butterfly house, and a playground.
Neighborhoods
Like many southern cities, Durham has made efforts to revitalize its downtown area in recent years. The city has received an economic and cultural boost from the efforts and today the downtown area is thriving. The American Tobacco Historic District has many restaurants and cultural venues. It's adjacent to the Durham Performing Arts Center and the Durahm Bulls Athletic Park. The downtown corridor along West Main St has also been the focus of much redevelopment. The area has opened many bars and art studios. There is shopping and dining in Brightleaf Square and the Bright Leaf Historic District. Ongoing revitalization efforts continue to bring the area to life.
Duke University's campus is another area that attracts tourists. The campus is divided into the West Campus, with Gothic architecture and the famed Duke Chapel, the East Campus has Georgian architecture and a large grass quad, and the central campus, which is where you'll find many student apartments. Just off of East Campus is Ninth Street, which has many restaurants, bars and shops.
Activities
There are plenty of activities that you can enjoy while you're in Durham. There are regular cultural events and performances hosted by Duke. The school is also home to the famous men's basketball team. Tickets are almost impossible to come by, but visiting the campus after a victory can be an experience in and of itself. Durham is also home to the Durham Bulls minor-league baseball team. Tickets start at $6.
Also make sure you take a walk through the beautiful Sarah P. Duke Gardens. If you're in town over the weekend you may even see a wedding taking place. For hiking, head to Eno River State Park, which has many trails and several picnic areas.
The Durham Performing Arts Center hosts world-class performances that include award winning broadway shows. If you want to see an independent film, head to the historic Carolina Theatre.
Food and Dining
Durham has a range of restaurants that serve every style and budget. If you can't find what you're looking for in Durham, you can easily make your way to Chapel Hill and Raleigh as well. International cuisine is quite common in the area. There are excellent Asian, Ethiopian, Greek, and Middle Eastern restaurants. For the most budget friendly options, stay in the university area.
Favorite local restaurants include Cosmic Cantina, Elmo's Diner, Francesca's Dessert Cafe, The Mad Hatter's Bake Shop, Bullock's Barbecue, Nana's, and Foster's.
Transportation
The closest major airport is Raleigh-Durham International Airport in Morrisville. American Airlines and Delta Airlines offer the most frequent service to the area but there are other options as well. Amtrak also has two lines that stop in Durham: The Carolinian and the Piedmont. Bus service is provided by Greyhound and Megabus.
Durham is served by both the Triangle Transit Authority, which offers routes between Raleigh, Durham, Chapel Hill, and Research Triangle Park as well as The Durham Area Transit Authority, which offers service to the urban areas in Durham. In general, public transit is very inefficient and unreliable, so having a private vehicle is a must if you hope to navigate the city. Rental car agencies are available at the airport.
Related:
Looking for a
party hostel in Hawaii
or
Miami
? Traveling alone to
LA
or
New Orleans
? Want a budget hostel in
NYC
?