New Bern On a Budget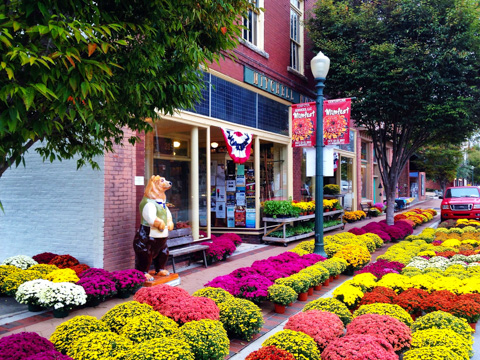 New Bern is a town in the coastal region of North Carolina. The town, which has a population of about 30,000, is the county seat of Craven County. It sits at the confluence of the Trent and Neuse Rivers close to the North Carolina coast, although there is no coastline in town. The town makes a nice daytrip from Raleigh, which is 112 miles away, and Wilmington, which is 87 miles away. It's also 162 miles from Norfolk, Virginia.
New Bern is a historic community that dates back to 1710 when it was originally founded by Swiss and German explorers. It served as the colony capital, as designated by Royal Governor William Tryon. Today, the Tryon Palace, which served as the governor's 18th century residence, has been restored and is surrounded by a beautiful 13 acre garden.
New Bern was a significant port and trading center during the 1800's. Today it is a quaint and historic community that is pleasant to explore. There are shops, restaurants, and several nice bed and breakfasts in the area.
Sights
New Bern is a quaint town to explore. It is also the birth place of Pepsi Cola and today there is a small cafe and gift shop dedicated to the company. You can order a drink (Pepsi of course), and learn about the original ingredients. Don't expect to sample the original soda as they long ago stop producing it.
Perhaps the most popular attraction in town is Tryon Palace. It's a reproduction of Governor Tryon's mansion and it is surrounded by beautiful gardens. The original palace burned down at the end of the 18th century and the building that you see today was rebuilt during the 1950's using state funds. There is an admission price but the tour guides are very helpful and the site is worth a visit.
Neighborhoods
New Bern is a historic town with four historic districts listed on the National Register of Historic Places. The town's downtown area is quaint and pedestrian friendly. There are many well preserved buildings including homes, shops, and churches that date back to the early 18th century. It's also possible to walk to the waterfront.
The town has many beautiful bed and breakfasts, hotels, and restaurants. If you're interested in shopping, there are antique stores and specialty shops throughout town. There are also many small gardens sprinkled throughout the downtown.
Activities
Most people spend their time exploring New Bern on foot. There are many pleasant bed and breakfasts around town where you can stay. There are also many shops and excellent restaurants. Antique shops, outdoor recreational stores, and typical souvenir stores are all available. There are also some interesting coastal hiking trails just outside of town.
Food and Dining
For such a small town, New Bern has several excellent restaurants. Many cater to the tourist crowd but the food is good and the prices are reasonable. Seafood and southern favorites are available around town. 247 Craven has received the Sun Journal Reader's Choice Awards 1st place for the best chef and gourmet dining experience in town. They offer unique dishes that use local and seasonal ingredients. Baker's Kitchen is a nice option for brunch. Other popular restaurants include Captain Ratty's Seafood Restaurants and Steakhouse, The Chelsea Restaurant, Christoph's on the Water, MJ's Raw Bar & Grill, Morgan's Tavern & Grill, Persimmons Waterfront Restaurant, and Ribeyes Steakhouse.
Transportation
The closest large airport is Raleigh-Durham International airport, which is a three hour drive away. The local airport is Coastal Carolina Regional Airport. Just a ten minute drive from town, this airport is serviced by Delta and US Airways.
Both I-40 and I-95 run relatively close to New Bern. You can access the town along U.S. Highway 70, 17 and NC 17.
New Bern is a small town and, while the downtown area is pedestrian friendly, you really must have a car to explore the area. There is no real public transportation in or out of town and taxis are hard to come by and extremely expensive if you do find one. Several hotels do offer free rides to and from the local airport so inquire before making arrangements. There is a cheap local bus that travels around town passing by the larger shops and several residential neighborhoods.
Related:
Looking for a
party hostel in Las Vegas
or
San Diego
? Traveling alone to
NYC
or
LA
? Want a budget hostel in
San Francisco
?