Joshua Tree National Park On a Budget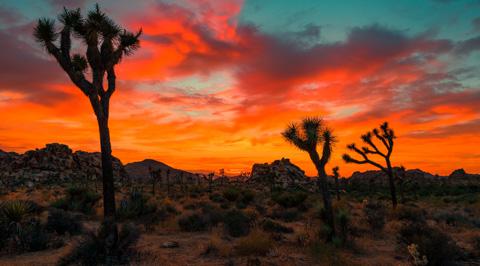 California's high desert has a unique landscape and has become synonymous with
Joshua Tree
, located in southeastern California. Joshua Tree National Park gained its namesake from its spiky, evergreen, and unusually shaped trees native to the Mojave Desert area, which only grow in arid soils on plains, slopes and mesas. Legend has it that Mormons in the 19th century came across the trees and thought they resembled Joshua from the Bible, with outstretched arms, beckoning them to the promised land. Well, they do kind of look like people.
The best times to visit are in early spring, between March and April and in late fall between October and November, when temperatures are mild during the day and cool in the evening.
While the park is open year-round, you'll experience fewer crowds in summer and winter due to extreme temperatures. During these seasons, average daytime highs exceed over 100 degrees in summer and average nighttime lows dip below 40 degrees in the winter.
Entry to the park for one vehicle is $20 for seven days and an annual pass is $30. Fees can be paid at the visitors centers or at the entrances to the park. If booths are unattended when you enter or the lines to pay are too long, you can also pay on your way out of the park. Be sure to visit any of the four visitor centers for maps, current conditions and any temporary closures in the park.
Sights
Some of the most popular sights can be seen on hikes throughout the park. With more than 25 marked trails,
Joshua Tree National Park
offers nature hikes suitable for all levels.
While the iconic Skull Rock is visible from the road, the real highlight lies in the surrounding rock formations to climb. This short, easy hike explores boulder piles and loops back to the entrance.
Hike an easy, kid-friendly, mile-long loop to Hidden Valley, enclosed by rocks and rumored to have been a place where cattle rustlers hid their stolen cattle here.
The half-mile Indian Cove loop can be completed in just 30-45 minutes while you explore native plants and animal life. Wear close toed shoes for the quarter-mile loop through the Cholla Cactus Garden. It may be prickly, but is an incredible place to see thousands of densely packed Cholla cacti on an easy nature walk.
Arch Rock is a signature rock formation easily accessed by a half-mile hike from the White Tank Campground. Fortynine Palms Oasis, while not connected to the rest of the park, is a favorite trail for many who visit Joshua Tree. The moderate, three-mile rugged hiking trail offers a 300-foot elevation gain in both directions, stunning views of barrel cacti, rocks and especially the fan palm oasis at the end. Other famous rock formations can be seen at Jumbo Rocks, Barker Dam and of course, Wonderland of Rocks.
The hike to Ryan Mountain is one of the most popular hikes of the park. Despite its seemingly short 3-mile length and estimated 1.5-2.5 hours it takes to complete, it is one of the most strenuous hikes, as you will gain about 1,000 feet in elevation as you make your way to the summit of Ryan Mountain. The most challenging and longest hike is the California Riding and Hiking Trail, which covers 35 miles and takes between 2-3 days to hike. It's a one-way hike starting from Black Rock Canyon and passes through a variety of Mojave Desert landscapes.
Activities
It's easy to find
things to do in Joshua Tree
, as the park and surrounding areas offer so many different activities.
Campers are in for a unique experience as many of Joshua Tree's campsites are in between rock formations in the heart of the high desert. Campsites are first come first serve, but visitors may search for their own campsite and pay by the night if they wish to take a chance. Your best bet is coming early to search on Friday as sites fill up quickly during high seasons.
Joshua Tree offers eight campgrounds: Belle, Black Rock, Cottonwood, Hidden Valley, Indian Cove, Jumbo Rocks, Ryan and White Tank, all of which require permit fees between $15-20 per site, per night and must be paid within an hour of choosing a campsite. Note: Only Black Rock and Cottonwood have water and flush toilets.
Reservations can be made up to 6 months in advance at
www.recreation.gov
or (877)444-6777. Campers: don't worry about forgetting camping gear or running short on supplies; a 24-hour Walmart is available just outside the park on the northwest side on Twentynine Palms Highway.
Those who aren't ready to rough it can find a multitude of accommodations on Twentynine Palms Highway or in other areas around the park. For example, check out these
epic Airbnbs in Joshua Tree
. Joshua Tree Inn is a well-located, kitschy place full of character for a great value and the High Desert Motel offers basic, clean rooms convenient to the park entrance and visitors center. Mid-level accommodations include the corporate Holiday Inn Express Hotel and Suites, Best Western Hotel and Suites and the Fairfield Inn and Suites, which offer free breakfast and more creature comforts consistent with standardized hotel brands. Those seeking sophistication can stay at the Sagewater Spa, which offers a luxurious, quiet getaway on the west side of the park.
Horseback riding is a wonderful way to explore the park, which has more than 200 miles of equestrian trails, allowing riders to travel through canyons, open lands and dry washes. Campsites which allow horses and stock animals (limited to mules) are Black Rock Horse Camp and Ryan Horse Camp, which require reservations and a fee of between $15-20 per night.
The Geology Motor Tour is also available for those who want to see the park but may be limited in time or mobility. The tour covers 18 miles of the park's landscapes with 16 stops along the way.
Joshua Tree National Park is world-famous for its monzogranite climbing and bouldering with more than 400 climbing formations and 8,000 climbing routes for all levels and styles: crack, slab and steep-facing. Climbing guides and maps can be found at the visitors centers and climbing guide services can be found online or at local climbing stores.
The opportunity to stargaze in Joshua Tree might just change your mind about the night sky, as most urban areas produce too much light and pollution to see stars. One of the best viewing points is Pinto Basin, though it is located further in the center of the park. Stargazing hikes and activities vary by the season; check the visitors center for upcoming events and daily hikes and constellation guides.
Festivals & Events
Bhakti Fest West is a three-day yoga, dance and music festival that takes place in September every year. For more information, visit
BhaktiFest.com
.
Shakti Fest is an annual all-ages five-day yoga, sacred music and personal growth festival each May.
Joshua Tree Music Festival is a biannual family-friendly music festival that takes places in autumn and spring. The spring festival feature and eclectic mix of electro-funk, dance, groove and world music, while the fall lineup features artists of folkadelic, new grass and world beat genres.
Joshua Tree National Park was named of the best places to watch the Perseid Meteor Shower, which takes place between mid-July and late-August.
Food and Dining
While most campers may prepare food at their campsites, there are a handful of inexpensive to moderately priced restaurants available on the Twentynine Palms Highway.
Crossroads Cafe is well-known for their breakfast offerings, chicken cilantro soup and banana bread at fair prices. For vegetarian and vegan fare, many rave about The Natural Sisters Cafe's curried rice wraps, killer bee smoothies and chop salads.
Get more bang for your buck at Joshua Hookah Lounge, an inexpensive choice for lunch. Diners can stop in for hookah with their Middle Eastern fare featuring hummus, falafel and gyros. Pie for the People serves New York style (read: thin crust, large slices) pizza and exceptional, but inexpensive cannoli. Meanwhile, an eclectic fusion of Indian cuisine and pizza is served at Sam's Pizza, featuring their coconut korma and curry pizza.
Diners love Royal Siam Cuisine Thai Restaurant's spicy coconut milk soup and their lunch specials which hover around $8 and are served Monday through Saturday from 11 a.m. to 3 p.m.
Those who aren't feeling particularly adventurous to try local fare can find standard fast food eateries like Burger King, Panda Express, and other burger joints on Twentynine Palms Highway or along the 10 freeway, south of the park.
Transportation
Joshua Tree National Park is best and most easily reached by car but the Morongo Basin Transit Authority does serve the national park from Palm Springs. Palm Springs International Airport is just 45 minutes away from the park for those coming from afar. The closest large cities from which to drive to Joshua Tree are Los Angeles and San Diego.
There are four entrances to the park: the Black Rock entrance from Yucca Valley, the North Entrance from Twentynine Palms, the Cottonwood Entrance from Interstate 10, and the West Entrance, which is the most popular way to enter the park as it provides a direct route to Hidden Valley and other attractions.
The road to the trailhead of the Fortynine Palms Oasis and Indian Cove campground are accessible from Twentynine Palms, but neither roads connect with the rest of the park.
Related
Looking for a
party hostel in Las Vegas
or
San Diego
? Traveling alone to
NYC
or
LA
? Want a budget hostel in
San Francisco
?