Should you visit Switzerland or Italy?
Both Italy and Switzerland are popular travel destinations in Western Europe. Both countries have their own unique culture and cuisine, and each country has a lot to offer visitors. Although both countries are relatively expensive, Switzerland is a notoriously high cost place to visit. Some people say Switzerland is one of the most expensive countries to visit in Europe.
For many, Switzerland is worth its high price tag. The scenery is dramatic and breathtaking, the mountain towns are charming, and the winter sports are thrilling, but it's really a personal decision whether you visit Italy or Switzerland. Although the mountains in Switzerland are a bit more dramatic than those in Italy, Italy offers a more diverse experience with a rich history and culture, and a variety of cities that attract tourists for their art and architecture.
When is the best time to visit Switzerland and Italy?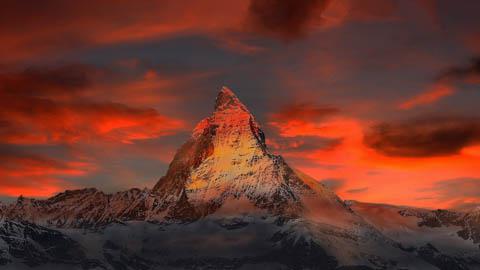 Italy's peak season is the summer months. This is when the tourist crowds are the most overwhelming and the prices are high. Temperatures can also be quite hot during these months, particularly in southern Italy. If you want to avoid some of the tourist crowds, then the fall and spring seasons are pleasant times to visit. The prices are also slightly more affordable during these times. If you're going to visit Italy during the winter months, then the larger cities are great places to explore. Smaller towns and along the coast you may find that some hotels and restaurants have closed their doors for the season.
The best time to visit Switzerland really depends on what you're planning to do there. The winter months are most popular for skiing and other winter sports. During March and April most of the ski resorts close for the season, so this is a low time in the area. By the end of spring, more hiking trails become accessible and by June most trails are great for hiking. July and August is the summer high season when hiking and biking are most popular. By October the weather is getting cooler but it's still too warm for skiing, so this is a low season. December is popular because of the charming Christmas atmosphere and by late December ski resorts are starting to open up.
Why is Switzerland more expensive than Italy?
Switzerland is a notoriously expensive country to visit in Europe. Almost everything, from food to accommodation, is more expensive than in Switzerland than it is in Italy. this is in part because Switzerland is on the Swiss Franc, which is a strong currency. The cost of living is also higher in Switzerland. Salaries are higher and the cost of basic goods and services is more expensive in Switzerland than it is in Italy.
As a tourist, the activities you are likely to do in Switzerland also tend to be more expensive than in Italy. Everything from ski resorts to museums and restaurants come with a hefty price tag. For many, Switzerland is definitely worth the cost, but if you're not prepared to pay for it, you may miss out on a lot of what Switzerland has to offer.
What are the most expensive and cheapest cities and regions in Switzerland and Italy?
Italy's most popular tourist destinations are also the most expensive areas to visit. Northern Italy is more expensive than Southern Italy, and places like Florence and Venice are the most expensive cities to visit. Rome is also an expensive city to visit, but there are a wide variety of budget hotels and hostels to choose from, so if you want to save some money it is possible. There are also a diversity of restaurants to choose from in Rome, and if you get outside of the most touristy areas you can spend a bit less.
In Switzerland, the amount you spend really depends on what activities you plan to do. Many people head to Switzerland to enjoy the winter sports, which are particularly expensive. If you plan to go skiing or snow boarding be prepared to pay a premium to stay at a ski resort. Both smaller towns and larger cities can also be expensive in Switzerland. If you want to save some money, your best options is to travel to Switzerland during the low seasons.
How you can save money when visiting Switzerland and Italy?
Choose your activities wisely. What you do and where you stay can have a significant impact on the cost of your trip, particularly in Switzerland where many visitors like to take advantage of the area's excellent skiing opportunities.
In Switzerland, stock up on food and supplies when you're passing through the border towns. Things in border towns tend to be a bit less expensive.
Eat where the locals eat. Restaurants that are geared toward tourists will inevitably be more expensive. Try to find a local eatery and you're sure to save a good bit of money.
If ever there was a country where it's worth preparing your own meals, it's Switzerland. Restaurant prices can be extravagantly high (although the quality is usually also high). If you want to keep your expenses down, stock up on cheap groceries and plan to make your own meals.
Get off the beaten path in Italy. Prices in the tourist areas tend to be a lot more expensive, so find a small town that's of the tourist circuit and you'll enjoy a unique experience for a fraction of the cost.