Bikaner On a Budget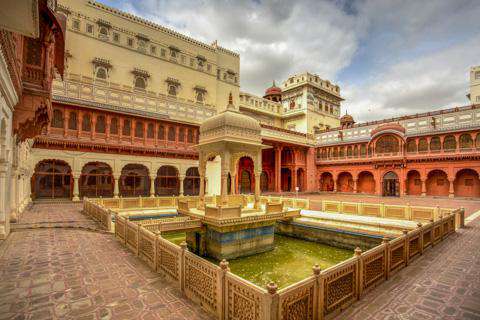 Bikaner is located in the Rajasthan state in northwest India. This city is where the headquarters of Bikaner District and Division are located. The city was founded in 1486 by Rao Bika, and has a population of about 645,000 people.
Sights
The Junagarh Fort is the most significant sight in the city. It dates back to the 1500's and serves as a fort for the Bikaner royal family. The fort was built by the sixth ruler of Bikaner, Raja Rai Singh. Within the fort is a museum that houses historical weapons, cars, and other artifacts.
Another fort that belongs to the royal family (the Rajputana family) is the Lalgarh. Here you can discover the story of the royal family and see some historic artifacts of the past kings that have lived there. For information about the government in Bikaner, the Ganga Museum is that place you'll want to see.
If you are an animal lover, be sure to check out the Bikaner Camel Research Center. You can learn about camels, view the camels, and then head to the museum. You can also try camel's milk and ice cream while at the center.
There are a few temples in the city worth seeing. The Shivbari Temple is centuries old and has two large water reservoirs (called "Baoris"). Another temple that many tourists visit is the Jain Temple Bhandasar.
The Laxmi Niwas Palace was once the residence of the King of the former Bikaner state. The palace was completed in 1926 and was constructed in an Indo-Saracenic style. Today it serves as a luxury hotel. Lastly, Devi Kund Sagar is a royal crematorium that holds many tombs (chattris) that are something worth seeing. This place is located about ten minutes from the Junagarh Fort.
Neighborhoods
About thirty kilometers from Bikaner is the Karni Mata Temple in Deshnoke. Karni Mata is a local deity who was believed to be the caretaker of the Rajputana family. An interesting fact about this temple, which may impact your decision on visiting this temple or not, is that rats are believed to be holy by the locals who live near the temple. You will witness rats being cared for and fed, and you may have a close encounter yourself!
Activities
The main tourist attraction in Bikaner is embarking on a desert or a camel safari. On these safaris, you can see wildlife, impressive vegetation, and beautiful desert scenery. Several companies that operate these tours: Rao Bikaji Groups, Camel Man, Vino Desert Safari, and Vinayak Desert Safari. These tours usually cost around twelve hundred Rupees, but prices can vary depending on the services offered.
Also, visit the Bhujia Bazaar in Bikaner, which is a market located near the city center offering great cultural and people-watching opportunities (in addition to the items on sale, of course).
Food and Dining
Within the Bhujia Bazaar is a place called Chai Patti. This place is known for its kachoris and samosas. A kachori is a traditional spicy snack, made with spiced peas and lentils and then fried. A samosa is a savory pastry stuffed with spicy vegetables and/or meat and fried in ghee butter or oil. If you wish to try fast food in Bikaner, head to Chhappan Bhog, which is the oldest fast food restaurant in town. The best food items here are the typical Indian-Chinese chow mein, the rava dosa with coconut chutney, and the rajkachori. Chhappan Bhog is located on Station Road near Silver Square.
For dessert, head over to Sankhla Kulfi. They have a range of traditional Indian sweets including kesar kulfi (a type of Indian ice cream). This is sure to cool you off on a hot day in Bikaner!
Transportation
Bikaner is most easily reached by train. Delhi, Jaipur, Punjab, Agra and most other major cities in India have trains with service to Bikaner. Another option is to rent a car, the highways are easy to navigate and the surrounding towns aren't too far away from Bikaner. The closest airport to Bikaner is in Jodhpur, which is four hours away. From there, renting a car or taking a train is the best way to transport you to Bikaner.
Once you are in the city of Bikaner, the best way to get around is on horse carriages (trishaws/tongas). The streets are extremely narrow and busy, making it hard to get around in a car or on foot. These horse carts are very affordable; they shouldn't cost more than two hundred and fifty Rupees. Renting a bicycle is another option for transportation within the city; the railway station offers bike rentals.
Related:
Looking for a
hostel in Delhi
or
Goa
? Heading to
Kathmandu
or want a
party in Tel Aviv
?