Jaisalmer On a Budget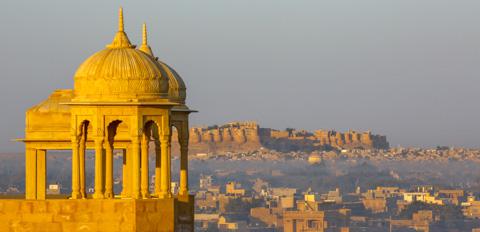 Jaisalmer is located in western part of the Rajasthan state of India. The city is known as the "Golden City" for its Sonar Qila, or 'Golden Fort'. This fort is different than other forts in India in that it is a living fort, meaning that it contains many hotels, homes, and shops for locals and visitors. The city is very close to the Thar Desert, to which excursions can be made.
Sights
The Jaisalmer Fort, or the Golden Fort, is the most notable sight in the city. It is the backdrop of Jaisalmer, so it would be hard to miss upon arriving in the city. The fort is very picturesque, especially around dusk, when the light from the sunset gives it even more of a golden hue. Inside the fort, you can find a full living and working community. There are many great lookout spots within the fort, which all offer gorgeous views over Jaisalmer as a whole.
Ghadsisar Lake is the water supply for the whole city; it collects rainwater. The lake was created over six hundred and fifty years ago by King Ghadsi and in modern day, the lake is surrounded by tombs of saints and temples. Boat rides are offered on the lake, which is a great way to see the temples and tombs up close.
Within the fort are seven intricately carved temples, built in the twelfth century. Each temple has a walkway that connects it to the next one, and so on. When entering a temple always be sure to remove your shoes and any articles made of leather. Some of the temples are not open for tourists to visit, however, there are a few that are open to tourists. One of them is dedicated to Chandraprabhu, the eight Jain God, which is symbolized by the moon. This temple was built out of rare stones back in 1509.
Neighborhoods
There are towns and attractions surrounding Jaisalmer that are great for day trips. Bada Bagh, an isolated tomb garden, is about six kilometers outside of Jaisalmer. There are chattris that represent the memorialization of local rulers, as the tombs are actually empty. Besides the occasional noises from the wild peacocks, this is a very peaceful place to visit, as many tourists do not know it exists.
The Tanot Mata Temple is another attraction in this region. It is on the outskirts of Jaisalmer, very close to the Pakistani border. There is a museum on site that displays exploded bombs that were dropped by the Pakistani army in 1965.
Activities
Camel and jeep safaris are one of the main attractions in Jaisalmer. Both involve escaping out into the desert and seeing the beautiful scenery with the sun setting in the background. Most of the camel safari trips are put together in the surrounding towns of Osian, Pushkar, and Bikaner (if the ones in Jaisalmer don't interest you). You can go out on a camel safari for two to seven days. Each person gets a camel for the trip and there is also a cart that carries the bags, tents, and any other necessary supplies. Some companies in Jaisalmer that offer camel safaris are Sahara Travel and Trotters Camel Safari.
Visit the Indian Crafts Boutique Museum, which gives an insight into not only the local trade history but also Indian trade history as a whole. Learn about the jewelry making process and textile production through displays and brochures. There is also information on alternative medicine (chakras, Ayurveda, and meditation).
Shopping is another great activity in Jaisalmer. The city is known for its artifacts made of leather, its embroidered silk and cotton, and its silver jewelry. Within the fort, you will find many vendors that sell all of the above. Roop Kashore is one of the vendors who makes custom rings.
Food and Dining
Many of the restaurants in this city are targeted towards Westerners; therefore finding traditional food can be hard to come by. If you do come across a place that offers traditional food, be sure to try some of the local specialties. This includes lentils and rice (Dal Baati Churma), onion balls (Pyaz Kachori), and dumplings with curry (Gatte Ki Sabzi).
Transportation
Currently, there is no airport near Jaisalmer so the city must be reached by train, bus, or car. There are trains that run from Delhi very frequently. The Delhi-Jaisalmer Express departs from Delhi Jn Station at five thirty in the evening and arrives in Jaisalmer around noon the next day.
Once you arrive in the city, you can basically navigate around on foot or bicycle. There are also taxis around town, but not very readily available. Tuk Tuks can be hired as well, which are small motorbikes that hold passengers.
Related:
Looking for a
hostel in Delhi
or
Goa
? Heading to
Kathmandu
or want a
party in Tel Aviv
?