Munnar On a Budget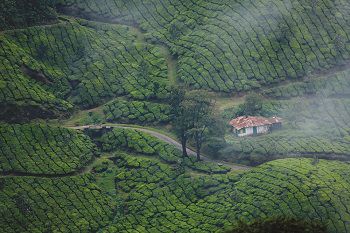 The name Munnar brings the picture of vast tea estates in front of our eyes. The hilly region is full of tea plantations which spread across acres and acres. The misty valleys in between add beauty to the greenery along with clouds. With the soul-stirring surrounding and panoramic charm of nature, Munnar is enriched with an opulent floral beauty. The green tea meadows make it even more vibrant. If you want to sleep in the lap of nature for some time amid the utmost serenity, no other place in Kerala can be better than Munnar. So, unleash yourself here and get the most of it.
The weather is pleasant throughout the year, but the best time to visit depends on why you are going there. For honeymooners, July to August is good which is a monsoon season. September to March is the right time for tourists who love to roam around. The warm months in Munnar are April to June, but it is not very hot that you should avoid.
There are many
hotels, rooms, and home stays available
, and one can pick based on their budget. If your budget permits, look for Bungalows amidst lush tea gardens for a stay, which gives an experience of lifetime.
Sights
You can schedule your time to be busy all the time in Munnar. There are plenty of activities to do and lots of places to visit. To explore the hill station, you don't need to make much effort or hire any
Indian travel guide
, either Because Munnar has something to surprise you at every single step. As long as you go, you'll be greeted by all of the wonders.
Mettupatty Dam:
It is at 13 kms from the city. You can spend 3-4 hours watching the rare fauna and flora around the water.
Kundala lake:
It offers boating and a serene atmosphere. If you are in the right time there, you may get to see Neela Kuranji flowers. This can be visited enroute top station, which is a viewpoint. Kundala Lake and a golf course are part of the huge Kundala tea plantation.
Attukal Waterfalls:
It is worth visiting for its water and nature around. Located at just 7 kms from Munnar, this is a not-to-miss tourist place. You can feast your eyes and ears with the beauty and sound of water flowing amidst greenery and rocks. This is also the destination for trekking enthusiasts. There are other waterfalls like Chinnakanal, Lakkam, Thoovanam etc.
Chinnar Wildlife sanctuary:
Chinnar Wildlife sanctuary and Pampadam Shola National Parks are for animal lovers. You can feast your eyes with rare and endangered avian species, mesmerizing fauna and flora. This will keep you occupied for the entire day.
Kannan Devan tea museum:
You will have heard the name of Kannan Devan Tea, they also have the credit of opening the first Team Museum in India. It is located close to city at a 5 mts. Driving distance.
Marayoor Dolmens:
this place is for those who are interested in history, knowing about the lifestyle of our ancestors. You can find stone structures here which are amazing and inspire your curiocity about the life of people who lived there.
Blossom Park:
If you are a nature lovers, can spend time with different varieties and colors of flowers, interested in watching birds, this is the place for you. Spread over a land of 16 acres with Muthirapuzha river flowing through the park, this place is a perfect destination to rejuvenate. It is just 3 kms from the main hub. Remember, to enjoy this you should also have a lot of energy to walk, but it is worth all the strain.
Anamudi Peak:
If you are looking for a trekking destination,
Anamudi peak
is for you. Having the hat of being the highest peak, this stands tall at 2,700 meters. The best period to trek this peak is between May and November. The peak is located inside Eravikulam National park, so both can be done in one day.
Activities
Besides visiting the tourist attractions, there are activities that keep you occupied and busy. You can go trekking, rock climbing, Paragliding, trout fishing, you can also keep yourself fit by going on a cycling expedition. Improve your photography skills because wherever you turn the place is fit to be photographed and saved for life.
Shopping should not be forgotten. You should bring back beautiful memories and specialties of the place from any place you visit. Memories you will always stay in your heart and cameras. Also bring back Tea, spices like Black Pepper, clove, cardamom, and eatables like Banana chips, check for Banana and carrot cakes which are really good in some bakeries. Have an eye on handcrafted items, which are awesome.
Food and Dining
If you are a non-vegetarian, you have an abundant choice of best food. Kerala Parotta with non-veg curries is the food in demand here. Kerala style curries which are cooked using coconut milk are 'must taste' here. Check Rice Roti with chicken curry, Kerala Parotta with non-veg curry, and Idiyappam with Egg curry. Vegetarians do not get as many options as non-vegetarians, but you will get basic food like Chapati, dosa, upma and Idli.
Transportation
Located in the Idukki District of Kerala, Munnar is a popular travel destination. The town can be reached by road by taking Kochi to Dhanushkodi route.
Ernakulam
is the nearest railway station from Munnar, and is 140km. If you are looking for air travel, Cochin International Airport, situated at 110km away is the best airport.
In Summary
Munnar is a place which you may have to visit multiple times to satiate yourself and to salute nature's art and craft. God's Own country always welcomes you! Munnar is truly a delight for the eyes. No wonder why it makes a significant place in
world travel
.