Cochin On a Budget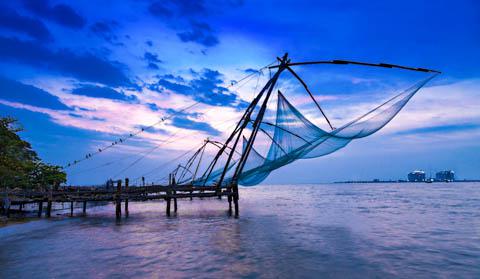 Cochin is a large city in Kerala, India. It's a cosmopolitan commercial port city with a population of over two million and is a major tourist destination. The city has a diverse population that has migrated from elsewhere in Kerala, as well as the rest of India. The city continues to become more cosmopolitan with fashion shifting to western styles. There are also many large shopping malls as well as an enthusiasm for sports such as football (soccer) or cricket.
The climate is tropical and temperatures are quite hot, between 30 and 35 degree Celsius during the day and dropping to 24 degrees at night. The monsoon showers reach Cochin earlier than elsewhere in India, with storms often starting in mid May and lasting until the first week in September. The ideal time to visit the area is between September and early February when the weather is typically pleasant. In February the summer season begins and the high humidity during this time makes the 40 degree days seem even hotter. Finally, in May, the temperatures begin to fall again.
Sights
Popular sights around Cochin include the Chinese Fishing Nets, Hill Palace Museum, Santacruz Basilica, VOC Gate, Bastion Bungalow, Jew Street and Paradesi Synagogue, the Dutch Palace, and Chendamangalam Palace Fort among many others. Popular museums include the Museum of Kerala History, Pareekshith Thampuran Durbar Hall Art Gallery, the Indian Naval Maritime Museum, Indo-Portuguese Museum, and the Kerala Folklore Museum.
One fun place to explore is Broadway Market, between Marine Drive and MG Road. Here you'll find vendors selling everything from cloth, to spices, or random souvenirs. It's the city's oldest shopping area and it's fun to get lost here.
Neighborhoods
Cochin is a large city. Ernakulam Mainland City is the city's transportation hub, and can be broken down into the Central Business District, the Downtown, and the Suburb.
Other areas in the city include Willingdon Island, the Peninsula of Mattencherry and Fort Kochi, West Kochi, Bolgatty Island, Vallarpadom Island, Vypin Island, Aluva, Thrikakara Town, Tripunithura, and Maradu.
Activities
The people of Cochin love sports and there are some great sporting venues that you can visit. Football is particularly popular, as is cricket. Cochin International Stadium and Rajiv Gandhi Indoor Statium both have facilities where you can play or watch.
There are many festivals held in Cochin throughout the year. Popular festivals include Cochin Carnival, Onam Festival, Shiva Temple Festival, the Fireworks Festival of Maradu Kottaram Devi Temple, Thripunithura Vrishikolsavam, and Chendamangalam Matta Chanda.
Food and Dining
Cochin has become a melting pot of cuisines from around the world and you'll find everything including Arabic, Chinese, Portuguese, French, English, Dutch, and Russian flavors. Because Cochin is a coastal town, seafood is excellent and fresh. Prawns, squid, and shrimp are incorporated into many of the dishes. Popular local specialties include Meen Molagitta Curry, which is a smoked fish served with coconut milk, and Kurukku Kalan, a yogurt curry dish made with bananas and served with rice. It's possible to buy fresh fish at Fort Kochi beach and have one of the nearby food stalls cook it for you.
For budget food, head to thattukadas, which are streetside food vendors that offer hot food for a cheap price. There are usually benches or chairs nearby where you can sit. There are also some Indian fast food chains that are affordable. These include KR Hot Chicken, Potpurri, The Oven, and Krispy Chicken.
Transportation
There are a number of options for traveling around Cochin, most of which are quite cheap. The city's bus system is excellent and efficient, but if you're not interested in navigating it, there are many taxis and rickshaws around that will eagerly give you a ride. There is a train system that is best used if you're hoping to visit the outlying suburban areas.
The bus system has several options. The red buses (or Line buses) are private, straight forward routes that offer English signs. Thiru-Kochi buses follow similar routes to the Red buses. Together, these two options reach most parts of the city. Orange buses are air conditioned Volvos that travel between the most important destinations. They are slightsly more expensive with longer wait times. Green buses are not air conditioned but link the suburbs to the city center. This is a good option for budget travelers who want to visit attractions that are farther out.
Related:
Looking for a
hostel in Delhi
or
Goa
? Heading to
Kathmandu
or want a
party in Tel Aviv
?