Hondarribia On a Budget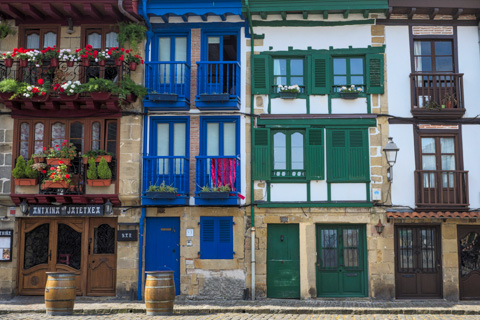 The characteristic Spanish buildings painted in the brightest, most vibrant of colors only match the true spirit of the town, Hondarribia, Spain. Hondarribia is located on the west shore of Bidasoa river's mouth in Gipuzkoa of Basque Country. The town is rich in its Spanish history, holding both an ancient old quarter with walls and a castle within. Hondarribia is also known for its gorgeous beach of bright blue water across the Bidasoa alongside the fertile, roaming mountain of Jaizkibel. What's more, Hondarribia faces the border of Hendaye, France, so if you are yearning to expand your cultural learning, take a service boat over to Spain's friendly neighbor! No matter if you want to explore the ancient architecture or enjoy the cooling waters of the bay, Hondarribia is definitely a location known for its beauty and activity!
Sights
If you are looking for a taste of Hondarribia's history, sink your teeth into the Parado Hondarribia. The castle works almost like a time machine as one step into the fortress leaves you surrounded in the glories of the Middle Ages. Founded in the 10th century by King Sancho II of Pamplona in the early days of the Christian re-conquest, you would never assume that such a defensive-looking fortress could hold such beauty within. Guests can view lances, cannons armour, and all the other historic treasures of the Middle Ages, while being informed by employees of its historic significance.
If you need a place to stop, shop, and eat, don't hesitate in exploring Hondarribia's historic center. Easily a half-day trip, bustling shops and restaurants are scattered throughout the quaint town. Similar to that of Parado Hondarribia, the town retains its medieval influences that make Hondarribia so culturally and historically rich. Rarely congested, this town is known for its archectural beauty, where visitors can gaze and admire Basque homes in their bold paint and elegant decorations, while sipping on local wines and pinxos.
Activities
For all your swimming and tanning needs, the Playa de Hondarribia is open to all, a beach known for its exquisite shores and pristine facilities. With safe waters deemed by tourists, the Playa de Hondarribia is rarely crowded, enabling travelers enough space for sunbathing and swimming. What's more, if you ever find yourself getting a bit hungry, there are tons of restaurants and bars located at the marina right beside the beach. The Playa de Hondarribia allows inhabitants and travelers to relax to the soothing sounds of the ocean's swells amidst a clean, tidy shoreline.
Food and Dining
If you find the marina food doesn't suit your palate, the Gastro Toki Gran Soul surely will! Both a bar and restaurant, the Gastro is known throughout Hondarribia as one of the finest places to wine and dine. Receiving the Certificate of Excellence on TripAdvisor, the Gastro has a wide variety of Spanish cuisine for breakfast, lunch, and dinner. Some of their most widely acclaimed dishes include golden soft-yolk egg with breadcrumbs made by squid and chicken juices, foie gras with caramelized cheese, and duck salad à l´orange with crispy tiles. Though a fine eatery, the Gastro is friendly to kids, offering foods like four ham croquettes or grilled filet steak with fried potatoes off of their kid's menu. No matter what you decide to eat, be sure to take advantage of the cool, modern atmosphere created by the Gastro Toki Gran Soul.
Transportation
List most Spanish cities, most of the destinations in Hondarribia are easily accessible by foot. However, if you are looking to travel beyond the town's borders, a rental car will do you perfectly! If you do decide to take this option, be sure to drive on the "Highway of the Cantabrian," a road that spans over the gorgeous northern coast of Spain. Free parking is located in front of the Santa Maria gate, the main entrance to the Old Town. Paid parking is also available next to the beach at 9 € per day.
Unfortunately, Hondarribia does not acquire bus or train stations. However, if you are looking to visit the Hendaye, France, a service boat runs every half an hour, and it takes around 10 minutes. Costing 1.80 Euro, the boats are open from 10 AM to 1 AM in the summer and 11 AM to 1 PM in the winter. Though small and quaint, Hondarribia is truly one of the many marvels of Spain!
Related:
Looking for a party in
Barcelona
or
Madrid
?
Traveling alone to
Granada
or
Seville
?
Find a
Contiki tour
to Europe.
Train and Bus Prices
The best prices for buses and trains in Spain
can be found on Omio
(formerly
GoEuro
). They let you search across all train, bus, and plane routes throughout the region.