Durango On a Budget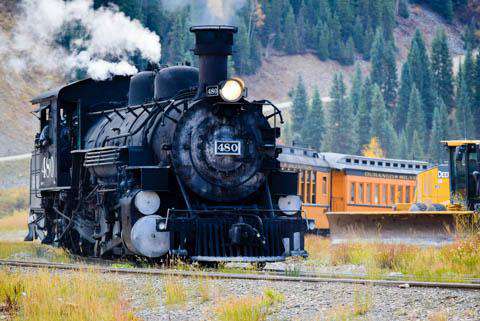 Located in the State of Colorado, in the Rocky Mountains, Durango is on the tourist maps because of its historic narrow gauge railroad that connects the city to the town of Silverton. Durango has a population of just over 16,000 and it is only a short distance from the "four corners" area where New Mexico, Arizona, Utah, and Colorado all meet. The landscape surrounding Durango is quite impressive and includes the Animas River Valley, the San Juan Mountains, and some beautiful red sandstone bluffs.
Durango was founded in 1880 by the Denver & Rio Grande Railroad. The tracks between Silverton and Durango were completed in 1882 and both freight and passenger trains traveled along the tracks. The route, along with the historic character of Durango make it a popular tourist attraction in Colorado.
Durango has a warm-summer humid continental climate. Highs can into the mid 80s Fahrenheit in the summer months and lows drop to around 15 degrees Fahrenheit during the winter months. Precipitation is relatively consistent throughout the year but June is usually the driest month.
Sights
When you arrive in town you should swing by the Durango Area Tourism Office for any information and brochures they may have. They offer great advice on the best deals and itineraries while you're in the area so a brief stop off is well worth the time.
Most people come to Durango to see the Durango & Silverton Narrow-Gauge Railroad. It follows one of the most beautiful railroad routes in the United States and you can buy round trip tickets that allow you time to visit the town of Silverton as well. You must have reservations in advance as the trains fill up early.
Other sights in the area include Vallecito Lake, which is one of the largest and most beautiful lacks in Colorado, the Durango Arts Center, which has exhibits from local artists as well as live performances, classes, and educational programs, and Fort Lewis College, which is a quaint campus with a good view of the area.
Neighborhoods
Historic Durango is enjoyable to walk around and the downtown area has plenty of boutique hotels and art galleries worth exploring. The entire area has a very western theme with an interesting character and atmosphere. If you're interested in shopping, the best place to go is probably Main Avenue which is lined with quaint shops where you can pick up some interesting souvenirs. Another option is to head over to Durango Mall where you will find most chain retail shops such as JC Penney, Pier 1, and Linens N Things.
Activities
The area around Durango offers all kinds of outdoor activities from river rafting, to hiking, mountain climbing or repelling. About 25 miles north of town is Purgatory at Durango Mountain Resort. The resort has a ski area that is designed for families with a resort vibe and a welcoming atmosphere. Other nearby places to explore include San Juan Skyway and Mesa Verde National Park, which makes for a nice day trip.
Food and Dining
The restaurants in Durango are some of the best, and most utilize locally grown produce. You can try many regional specialties such as wild game, honey, fish and cheeses. Interesting options include Durango Diner, East By Southwest, the Olde Schoolhouse Cafe, the Olde Tymer's Cafes, and Steamworks. There are also a few authentic Mexican restaurants in the area that are worth trying out. Tequila's Mexican Restaurant is a favorite.
Transportation
The local airport is the Durango/La Plata Country Airport which is in the southeastern part of town along US-160 and SR-172. The airport offers commuter service from Dallas, Denver, and Phoenix. There ae several rental car agencies in town. There is also a local taxi service, local buses, and a downtown trolley. The town itself is quite small and is easy to walk around. If you hope to explore the surrounding areas, it is best to have access to a car. There is plenty of parking available in town.
The town is easily connected to most nearby places by highways. If you're arriving during the winter months from the east along US Highway 160, make sure that the road is open and safe near the Wolf Creek Pass. This area is prone to significant snowfall and closures are common.
Related:
Looking for a
party hostel in Hawaii
or
Miami
? Traveling alone to
LA
or
New Orleans
? Want a budget hostel in
NYC
?