Tallahassee On a Budget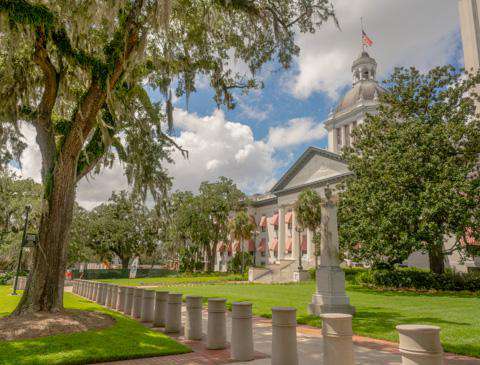 As the skyscrapers glow against the rose-tinged sunset, you find yourself astounded by the tropical metropolitan area of Tallahassee, Florida. Known as the capital city of the state, Tallahassee is the hub of Floridian politics and history, holding Florida State Capitol, Supreme Court of Florida, Florida Governor's Mansion, and nearly 30 state agency headquarters within its borders. To add to its importance, in 2015, Tallahassee was given the All-American City Award by the National Civic League for a second time. Despite all the city's historical and political accomplishments, Tallahasse is also known to attract a wide array of tourists looking to explore the beauty of Florida. From wild refuges to busy shopping districts to Florida State University, Tallahassee is a great place to be in Florida.
Sights
If you are looking to delve into the unique history of Floridian politics, be sure that you stop at the Florida Historic Capitol Museum. Built in 1845, the Capitol Museum was later restored to the glory of its 1902 appearance. Whether one seeks to admire the architectural exterior of the Capitol Museum or explore its fascinating interior, this building works as the symbol for the epicenter of Floridian politics and truly is a sight to behold. However, if one seeks to venture inside through a guided tour, visitors will find that through 250 artifacts in 21 rooms, the colorful history that has shaped Florida today will unfold. Admission is free, and the museum is open 9 AM to 4:30 AM on weekdays and 10 AM to 4:30 PM on Saturdays and noon to 4:30 PM on Sundays and holidays.
If you want to dine and shop, take a trip to the Centre of Tallahassee, a well-known mall district that holds innumerable restaurants and shops as well as live entertainment. Shop at Bath & Body Works or Belk, feeling free to stop to get a frozen treat at Coldstone or a full meal at Tally Brewing Company. Once you are done, retire to a nice movie and buttery popcorn at the AMC theatre that plays movies daily. However, be on the look-out for live entertainment as the Centre of Tallahassee's Pavilion is always hosting highly revered talent. From chic boutiques to convenient dining, the Centre of Tallahassee has it all!
Activities
Explore Florida's natural beauty by exploring the St. Marks National Refuge. Known for its exquisite, 43-mile shores of the Gulf and nearly 70,000 acres of Floridian wilderness, visitors from all around the world are welcome to admire and celebrate one of the most amazing examples of conservation in the United States. Established in 1931 to provide a wintering habitat for migratory birds, the refuge includes coastal marshes, islands, tidal creeks and estuaries of seven north Florida rivers, with a wide variety of plant and animal life within. The refuge also holds one of the most photographed lighthouses on the Gulf coast, the St. Marks Lighthouse, built in 1842 and still remains in use today. The refuge includes a wide variety of activities for all to take part in, including birdwatching, fishing, hunting, and hiking.
Food and Dining
Take advantage of the first-class eateries in Tallahassee, and book a reservation at Cypress Restaurant. Awarded the Certificate of Excellence by TravelAdvisor in 2015 and the Golden Spoon Hall of Fame by Florida Trend Magazine, Cypress Restaurant lives up to its reputation by serving top-rate, sophisticated Southern cuisine. With chef-cut aged meats, local produce and seafood, Cypress Restaurant ensures that it serves its patrons with only the freshest ingredients. Some of their most hailed dishes include fried eggplant bruschetta, sugarcane-mopped beef ribeye, braised ham hock and ricotta raviolis, and smoked pork shoulder stack. Enjoy the savory and sweet at Cypress Restaurant!
Transportation
The vast quantity of those who visit Tallahassee chose to rent a car due to its relatively cheap and convenient character. Once you fly into the Tallahassee International Airport, pick up a rental car from well-known rental car service providers like Hertz and Enterprise. As well, be sure to pick up a map of the city from the Tallahassee Visitors Information Center. Taxis are also provided within the city, though it is relatively easier to call rather than flag them down.
If you are seeking a cheaper method of travel, try using the trolley! Running on Adam Street, the trolley operates every 20 minutes from 7 AM to 6 PM on weekdays. Unlike most methods of transportation, the trolley is completely free to ride and an excellent method in visiting the historic sights of Tallahassee. However, for longer trips, use the city's bus system, StarMetro. Routes are available online and passes are cheap, with an ultimate day pass being $3 and a week pass being $10.
Related:
Looking for a
party hostel in Hawaii
or
Miami
? Traveling alone to
LA
or
New Orleans
? Want a budget hostel in
NYC
?