Gainesville On a Budget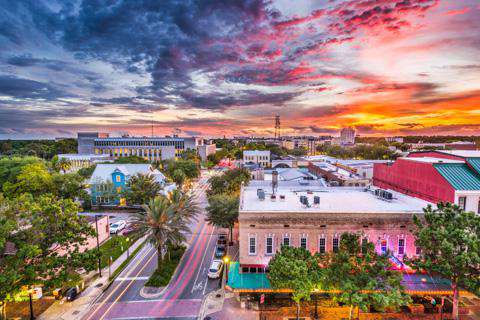 Home to the University of Florida as well as Santa Fe College, the town of Gainesville has all of the shopping, entertainment, and restaurants that you could want in a college town - plus easy access to a number of outdoor adventures from canoeing, diving, and kayaking to birding, fishing, hiking, and biking. Some of the top features include the Butterfly Rainforest, the Florida Museum of Natural History, the Kanapaha Botanical Gardens, and Devil's Millhopper Geological State Park.
Sights
The University of Florida alone brings visitors to Gainesville year after year. Home to the Florida Gator's, the University's Ben Hill Griffin Stadium (a.k.a "The Swamp") seats about 90,000 for those hoping to catch a football game. Other highlights on campus include the Curtis M. Phillips Center for the Performing Arts, Harn Museum of Art, Lake Alice, and university bat houses around the lake.
The Florida Museum of Natural History, located on the western outskirts of campus, explores the natural and human heritage of Florida, the Caribbean, and Latin America. Officially the state's natural history museum, the venue shows permanent exhibits which include Butterfly Rainforest: Where Science Takes Flight, Northwest Florida: Waterways & Wildlife, South Florida People & Environments, Florida Wildflower & Butterfly Garden, and the Fossil Plant Garden.
The Kanapaha Botanical Gardens, Florida's most diverse botanical garden, is another popular attraction covering 62 acres of 24 unique gardens. Some features include the state's largest Bamboo Garden, a Vinery, Palm Hammock, Water Garden, Rock Garden, Rose Garden, and the largest Herb Garden in the Southeast. Also worth mentioning is Devil's Millhopper Geological State Park - a sink hole about 120 feet deep that now sustains a small rainforest habitat.
Neighborhoods
Gainesville's downtown is centered on Main Street. Walking amidst the bustling avenues, you will find yourself along tree-lined streets draped enchantingly with Spanish moss. Yet, with the concentration of shops, restaurants, and theatres there is always something to do. Bo Diddley Plaza, for example, is a public space where live music performances often occur as well as a weekly Wednesday Farmer's Market where you can wander amongst the venders and have your own taste of local goods and produce. There are also plenty of boutiques and opportunities to shop around the Union Street Station Pedestrian Mall, while you also have the option to see a play or movie at the Hippodrome State Theatre. As far as dining goes there are a wide variety of options to satisfy every taste and budget, plus a number of bars to indulge in the nightlife.
Activities
In addition to experiencing the sights mentioned above, Gainesville is a home base for outdoor adventure and wildlife excursions. Just about any of the nearby parks and natural areas offer prime locations for canoeing or kayaking, hiking, biking, birding, fishing, and more. The Paynes Prairie Preserve State Park is one such place, now designated as a National Natural Landmark. Here you will find a number of diverse habitats where alligators, wild horses, bison and over 260 species of birds live. There are eight trails which provide opportunities for hiking, biking, and horseback riding as well as locations for camping and ranger-led activities on weekends. There is also a 50-foot-high observation tower near the visitor center that provides a panoramic view of the preserve.
Beyond outdoor adventure, Gainesville is also host to a number of festivals throughout the year. The most popular is probably The Fest - one of America's premier independent music festivals concentrating mainly on punk, and featuring hundreds of bands over three days. Others include the Micanopy Fall Harvest Festival, Festival of Trees at Gainesville Woman's Club, Old Time Christmas in Historic High Springs, Hoggetowne Medieval Faire, Newberry Watermelon Festival, and the Gainesville Improv Festival.
Food and Dining
Walk downtown and you will surrounded by a sampling of cuisines from around the world. From casual cafes and southern classics to burgers, barbeque, pizza, Asian, Italian, Indian, Mediterranean, seafood, and more, Gainesville has a palette of flavors to fulfill any craving. The culinary scene is thriving with locally grown foods, one-of-a-kind restaurants, and craft breweries plus a number of local wineries located just outside of town. Some of the best dining options as rated on TripAdvisor include Embers Wood Grill, Satchel's Pizza, The Top, Harry's Seafood Bar & Grill, and Dragonfly Sushi & Sake Co Incorporated, amongst others.
Transportation
By plane, Gainesville Regional Airport is the closest public airport, located three miles northeast of Gainesville. The nearest major airports can be found in Jacksonville (Jacksonville International Airport, about 80 miles northwest of Gainesville) and Orlando (Orlando International Airport, about 122 miles southwest of Gainesville).
By car, Interstate 75 runs north and south to the west of Gainesville.
By bus, Greyhound bus Lines has regular service to Gainesville, running through Jacksonville, Ocala and Tallahassee. Redcoach USA offers a bus service from
Atlanta
and Orlando International airports, and Megabus offers a bus service from Tallahassee, Atlanta, and Orlando.
Related:
Looking for a
party hostel in Hawaii
or
Miami
? Traveling alone to
LA
or
New Orleans
? Want a budget hostel in
NYC
?