Everglades National Park On a Budget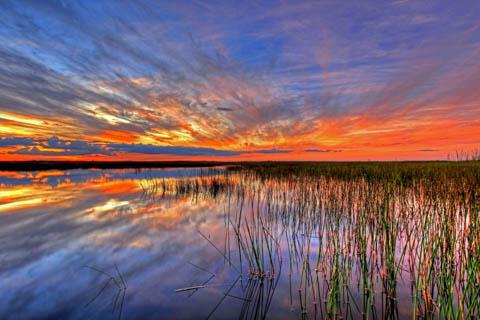 Mangroves cluster about you as you gaze in awe at the splashes of oranges and reds that paint the evening sky. As cicadas hum to ancient tunes and birds swoop through the cloudless sky, a sense of serenity is instilled in you as you remain in the midst of United States' largest tropical wilderness, the Everglades National Park. Receiving over one million visitors each year, this park protects over twenty-percent of the original everglades. Unlike most national parks whose purpose relied solely in preserving geographic features, Everglades National Park was created to preserve the fragile, ever endangered ecosystem of the everglades. Declared an International Biosphere Reserve, a World Heritage Site, and a Wetland of International Importance, Everglades National Park holds an array of activities for all to pursue no matter what their interests may be. Whether you are an avid bicyclist or a meager hiker, the Everglades National Park will keep you entertained from the early blush of morning into the depths of the night.
Sights
Amidst towering elms and impenetrable shrubs, you'll be surprised at the amount of entertainment that awaits you outside of the forest. Climb aboard the Shark Valley Tram and get the most out of your visit by admiring and learning about the diverse ecosystem the Everglades National Park retains. As you roll through the mangroves and past the swamps, a Park-trained naturalist will educate you on the ecology and history of the Everglades. Given a Certificate of Excellence by TripAdvisor, an initial sightseeing tour of the Floridian wilderness is transformed into an adventure that will leave you amazed and mystified. What's more, during the halfway point of your trip, the tram will make a pitstop at the Shark Valley Observation Tower where you can walk to the highest accessible point in the Everglades National Park. Besides trams, Shark Valley also offers cars, bikers, and motorcyclists the opportunity to engage in their own self-guided tours.
Activities
If you find yourself thirsty for physical activity, look no further than Anhinga Trail. Located 4 miles from the park entrance, the trail begins at the Royal Palm Visitor Center. With a trail length that extends about 0.8 miles, the walk is simply beautiful as most tourists claim. Among the sawgrass marshes, you will see alligators, turtles, anhingas, herons, egrets, and so much more, especially during the winter months. Because of its overflowing abundance of wildlife, Anhinga Trail has been deemed the most popular trail in the entire park. Unfortunately, bicycles are prohibited on this trail, so be sure to bring a good pair of running shoes and a bottle of water as you embark upon this spectacular glimpse of Florida's natural beauty.
Food and Dining
If traveling into the park on your own, it may be best to take a picnic lunch or other meals. Food is available at several of the visitor centers or in the towns near the entrances. The drives between the visitor centers can be lengthy, so plan accordingly for the best experience.
Located no more than three miles from Everglades City, Havana Cafe Restaurant stands proudly, serving its patrons a taste of authentic Cuban cuisine. Owners Carlos and Dulce Valdes have worked to create a quality Cuban eatery, serving only the freshest ingredients that reflect their homeland Cuba in taste, tradition, and quality. Nestled in Chokoloskee, a small and peaceful community, you will be amazed at the diversity of foods Havana acquires, serving breakfasts, lunches, dinners, take-outs, and catering to any and all that requests its service. Some of its most sought-after foods include the Midnight sandwich, fresh fish plate and basket, grilled chicken, Key lime pie, and flan. Havana prides itself on its affordability and family-friendly atmosphere.
Transportation
Getting around the Everglades can be quite tricky due to the highly variable accessibility throughout the park. A great deal of the areas can be navigated either by car or bike. Nevertheless, be sure you do your research prior to your visit in order to understand what vehicles are prohibited in which areas. If you are looking to rent a car for your Everglades expedition, car rental services are located just outside of the park in cities like Homestead, Miami, and Fort Lauderdale. No matter your method of travel, get the most out of your time in the beautiful Everglades!
Related:
Looking for a
party hostel in Hawaii
or
Miami
? Traveling alone to
LA
or
New Orleans
? Want a budget hostel in
NYC
?