Marathon On a Budget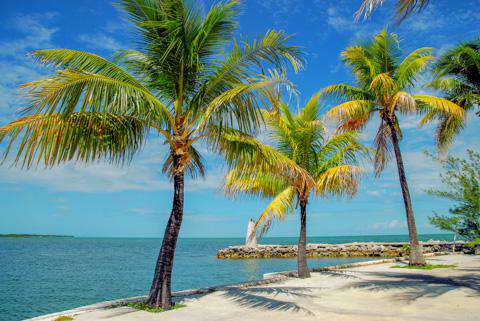 You step outside your deluxe suite onto the balcony and are greeted with nothing less than tropical perfection. The hum of the ocean, the whispers of the palm trees, the songs of the seagulls - you bask in this paradise otherwise known as
Marathon, Florida
. A 10-mile-long island, the chain contains Vaca Key, Fat Deer Key and Grassy Key, along with Duck Key just another few minutes up the road.
Cultivated in the old Key's lifestyle and marinaded in the traditions of seafaring, Marathon is known to give a warm welcome to snowbirds and beach bums alike. Magnificent coral reefs, gorgeous beaches, and amazing nature refuges - Marathon works to retain the wonder of Floridian wilderness. However, if you decide to go beyond the mangroves and alligators, you will surely not be disappointed as Marathon acquires a wide range of shops and restaurants to choose. Marathon is so passionate about its cooking that it even holds annual seafood festivals. With 10,255 friendly inhabitants waiting, open the gateway to your tropical dreams in Marathon, Florida.
Sights
A gorgeous wildlife reserve, a wonderful museum, and unforgettable nature trails - take a walk into the beauties of Florida at
Crane Point Museum and Nature Center
. A key point of interest for many travelers and a sight readily encouraged by most, Crane Point offers an endless assortment of activities to choose from. The Crane Point Museum offers a trip back in time to old Florida with its displays of local wildlife, marine life, dioramas and dramatic exhibits featuring artifacts and objects of cultural interest. However, if you find you need to stretch your legs a bit, Crane Point offers over 63 acres of nature trails, where visitors were be greeted by native plant and animal species of the Florida Keys. The trails also offer a taste of history, with tours given to the significant Adderley House and Crane House. Be sure to meet and greet with Marathon's feathery locals at the Marathon Wild Bird Center, where visitors get to admire the recovering birds before they take flight. Besides this, Crane Point also offers kayak and trolley tours. Admission is around $15.
Get acquainted with the history of Marathon's inhabitants and enter the
Pigeon Key Historic District
. Located off of U.S. 1 in Pigeon Key, Florida, the region contains over 11 historic buildings and 3 structures. The island gained its unique name due to abundance of white-crowned pigeons that roosted there. Some of its key architecture includes the old Seven Mile Bridge created during the building of Henry Flagler's Overseas Railroad Key West Extension. Most of the key historic sights are from the Flagler area, including a rare three-way bridge. However, this neat little town cannot be accessed by foot or wheel, only by ferry and/or other private watercraft. Get a taste of the traditional seaside architecture and learn of how civilization came to be in Marathon.
Activities
Don't just get acquainted with Marathon's two-legged inhabitants, be sure to give a friendly hello to its finned ones as well at the Dolphin Research Center. Established in 1984 by Jayne Shannon-Rodriguez and Armando "Mandy" Rodriguez, the Dolphin Research Center seeks to provide forever homes for its dolphin friends, while providing educational and research programs in order to learn about these complex mammals. The facility keeps bottlenose dolphins as well as California sea lions in its safe, spacious quarters. The Dolphin Research Center offers a wide array of programs, including camps, training institutions, field trips, and laboratories. Shake fins with a dolphin and cuddle with a sea lion at the Dolphin Research Center.
If you're looking for a fun, family-friendly place to stay, check out the
Hawks Cay Resort
in Duck Key, which is just a few minutes from Marathon. You'll find a gorgeous pool, beautiful calm beaches, plenty of great food, and fun activities for the whole family. It's about half way between Miami and Key West, so the whole area is a good spot to base yourself for a trip to the Florida Keys.
Food and Dining
From all these activities, you will probably find yourself getting hungry. Cast away your troubles at
Castaway Waterfront Restaurant
and Sushi Bar. Built in 1951, Castaway was taken over by John and Arlene Jones in 1999, where it became the savory seafood spot that it is today. Its menu features all S's, including seafood, sushi, spirits, and steaks. With a mouth-watering menu and 52 beers on tap, Castaway takes pride in its nutritious diversity. Some of its meals include stone crab, shrimp alfredo, sauteed gator, coconut shrimp, Florida lobster, and crab cakes. Enjoy the salty taste of the sea at Castaway!
Transportation
From the Florida Keys Marathon Airport, there are a wide variety of ground transportation methods for you to take on you trip. If you are looking for a car rental service, such services can be provided in- and outside the airport with major retailers being Hertz, Enterprise, and Budget. Taxi and shuttle services are also located at the airport as well as around the island, including Bob Narley Taxi, Ahoy Taxi, and Keyhopper Taxi and Transportation. Marathon also provides bus services through the the Lower Keys Shuttle Lime. Take a load off and have an adventure in Marathon, Florida!
Related
Looking for a
party hostel in Hawaii
or
Miami
? Traveling alone to
LA
or
New Orleans
? Want a budget hostel in
NYC
?