Bamberg On a Budget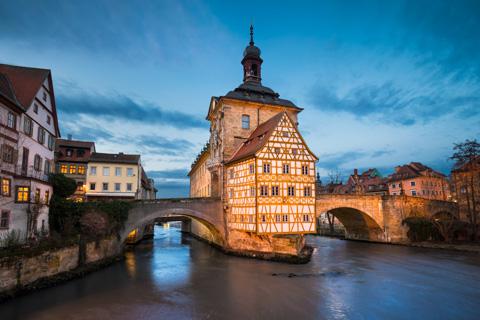 Amidst the rolling green hills and clear blue skies, you find yourself in a town that holds a certain magic in the air that leaves you in an intoxicated languor. Quaint, picturesque, charming - from its medieval and baroque architecture to its breathtaking gardens, the romantic flair of Bamberg, Germany is simply spell-binding. One of Europe's largest intact old town centers, Bamberg is located in northern Bavaria, established over 7 hills where the rivers of the Regnitz and Main conjoin. Preserving structures from the 11th to 19th centuries, Bamberg was named a UNESCO World Heritage Site since 1993. The town is filled to the brim with arts and culture, holding the world-renowned Bamberg Symphony Orchestra as well as such festivities as the international magician and street performers' festival. A gorgeous countryside town, Bamberg also provides its guests with many metropolitan amenities such as restaurants, cafes, malls, and antique shops. Whether it be beer gardens or nature parks, Bamberg has it all!
Sights
Built in the High Middle Ages, the Bamberg Cathedral is one of the imperial cathedrals still left standing. A sublime example of late Romanesque and early Gothic architecture, the Bamberg Cathedral holds many fascinating pieces of artwork, including the statue of the Bamberg Rider, an altar by Veit Stoss, sculptures from the Hohenstaufen era (1230), the figures of Synagogue and Ecclesia, a visitation group and the laughing angel. Bamberg Cathedral is also the famous burial placings of Pope Clement II, the only papal burial outside of Italy and France, and Emperor Henry II and Cunigunde, the sole imperial couple to be canonised. Adjacent to the cathedral, you will find the Diocesan Museum that also portrays a great deal of artistic works as well as information centers on the history of Bamberg Cathedral. Bamberg Cathedral is open from 9:30am to 6:00pm during April to October and from 9:30am to 5:00pm during November to March. Be sure to plan your tours accordingly as you will not be able to enter the Bamberg Cathedral during services. Experience the history of Bamberg at Bamberg Cathedral!
Activities
If you are looking to indulge in a little spending spree, just step outside of the Bamberg Cathedral, and a shopping experience like no other awaits you! Bamberg is known for its antique shops, so if you are a lover of the vintage, you are sure to find miraculous little treasures in this town. Nevertheless, surrounding the Bamberg Cathedral, there are shops of all kinds, with more than a dozen antique shops and a multitude of galleries. Many of these shops sell a motley crew of products, such as Sebök, Untere Königstrasse 21, that sells paintings, books, furniture, fine jewelry, silver, glass, toys, watches, clocks, and more. Other stores like the Töpferladen Irene Herold, Untere Brücke 1, sell handmade ceramics like candleholders, cups, dinnerware, vases, and garden statuary. Around this area, auctions are held every 2 months where you can find all sorts of fascinating collectibles and artworks. Find something old and something new in Bamberg's shopping district!
Food and Dining
Bamberg also provides its locals and visitors with gourmet meals, such as at the fine eatery of Fellini Ristorante. Founded by chef Massimiliano Zucchi, Fellini Ristorante provides its patrons with the culinary delights according to the traditional "Cucina Italiana." From market-fresh ingredients to friendly, attentive service, you will find a deep affection for this cozily designed restaurant and stunning garden. The meals prepared at Fellini Ristorante come from all regions of Italy, especially the region of the Campania, where Massimiliano learned the traditional forms of cooking that are now so apparent in his restaurant. Besides its pristine Italian cuisine, Fellini Ristorante also offers 90 excellent wines from only the most select wineries, with some of these bottles including the rare Sassicaia or the much beloved Grappe. Enjoy the romantic atmosphere of a high-class Italian affair at Fellini Ristorante.
Transportation
Getting around Bamberg is relatively straightforward with some of its most popular regions, such as the Altstadt, to be easily accessible by foot. However, be weary of the traffic lights as cars are not known to look out for careless pedestrians. Nevertheless, if you find your feet getting sore from exploring the hilly terrain of Bamberg, the town provides a dense bus network that includes a wide variety of tickets to and from Bamberg, such as VGN Day Ticket, Bayern Ticket, and Schones-Wochenende-Ticket. There is also a train station that is located 0.7 miles from the Altstadt that provides a plethora of trips you can take. No matter where you go or how you decide to get there, Bamberg will be a pleasant experience for all!
Related:
Looking for a party in
Berlin
or
Munich
?
Are you a
student or backpacker
traveling
alone through Germany
?
Find a
Contiki tour
to Europe.
Train and Bus Prices
The best prices for buses and trains in Germany
can be found on Omio
(formerly
GoEuro
). They let you search across all train, bus, and plane routes throughout the region.