Islamorada On a Budget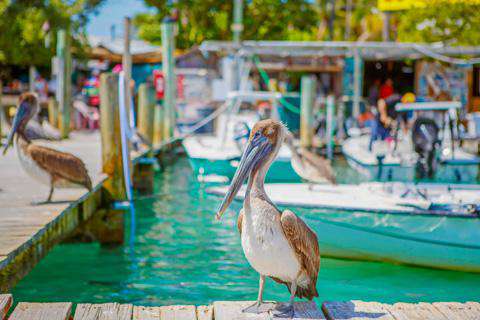 From its thriving coral reefs to its miraculous botanical gardens, you will find adventure on both land and sea at Islamorada, Florida. Islamorada, or "Village of Islands," is located in Monroe County and holds a population of no more than 6,119. As Islamorada's village is occupied within a cluster of nearby islands, Islamorada is located on Tea Table Key, Lower Matecumbe Key, Upper Matecumbe Key, Windley Key and Plantation Key in the Florida Keys. The village is relatively small, expanding to about 7.2 square miles total. Approximately an hour and a half-drive from Miami and a two hour-drive from Key West, Islamorada works swimmingly for those who seek to acquaint themselves with the tropical pleasures of the Keys.
Sights
A stop for those who seek to marvel at the historical sights of Islamorada while still interacting with its vivid wilderness will be thoroughly satisfied at Indian Key Historical State Park. Listed on the National Register of Historic Places in 1972, the island was once inhabited in the 19th century, but now works as a tourist destination for travelers from all over. Take a hike on Indian Key's infamous trails and watch the story of the island unfold before you. However, if you are looking to get your feet wet, Indian Key offers services for
kayaking in the Florida Keys
, as well as canoeing, snorkeling, fishing, and boating. No matter what tastes you have for tropical paradises, Indian Key most definitely works as the hidden gem of Islamorada.
Besides its wondrous shorelines, Islamorada also has a great deal of local shops and restaurants all clustered together nicely in the Village Square at the Trading Post. The work of creative Islamorada locals in an attempt to give their village a signature characteristic brought
Village Square
into fruition. Offering a wide variety of services from gift shops to yoga studios, the Village Square is a sweet, quaint community of vendors. Some of the stores include Miss Monroe Boutique, Urbn Grdn, Ucumbe, and Beach Bum Paddlesports. The Village Square also has a couple eateries for you to stop and relax amidst all the shopping, such as Good Girl Juice Bar and Cafe. Find nic-nacs and treasures at the Village Square!
Activities
If you are looking to interact with the wildlife of Florida, Theater of the Sea provides a fun, entertaining way to meet and learn of wild marine species like sea turtles, dolphins, and stingrays. The Theater opened its doors in 1946 and has continued to do so since, adding upon its ever-growing programs and exhibits. One of the oldest marine mammal facilities in the world, the Theater works to provide safe and spacious homes for its ocean friends. There are a wide variety of programs you can choose from, with many allowing you to interact with sea lions, dolphins, stingrays, and sea turtles. Besides this, the Theater also has dolphin, sea lion, and parrot shows, guided marine life tour, lagoon-side beach, and bottomless boat ride. Get the most out of your time at Islamorada and stop by the Theater of the Sea!
Food and Dining
Get a taste of the ocean at Ma's Fish Camp. After a ten year-long "Fishabout," a service boat that took clients on light tackle fishing adventures to very remote locations in Everglades National Park and the Florida Keys, Ma's Fish Camp was finally opened in 2009. Owned by local fishermen, Ma's meats and ingredients are only the freshest from the shores of Islamorada. Specializing in Floridian flavors, Ma's offers a vast selection of seafood and desserts. With all its meals cooked on the campfire or prepared in the Galley of our Luxury Expedition Houseboat, some of Ma's meals include shrimp scampi, seafood pasta, grilled skirt steak, fish matecumbe, key lime pie, and hummingbird cake. What's more, the venue is equally as diverse as the menu with both lodges and fish camps open for its patrons to wine and dine in. Enjoy a nice plate of seafood as the Floridian sun sets, concluding another perfect day.
Transportation
Due to the small size of Islamorada, taxi and bus services are not provided in the village. While rental cars cannot be procured in Islamorada, some of the nation's biggest car rental services can be found in nearby airports. However, due to its size, you do not need a car as most of the destinations above can be reached by foot or bicycle. If you are looking to jump from island to island, boating is a popular method of travel and there are a number of marinas which offer complete boat rental and charter services. Besides boating, you can make your method of travel stylish by either canoeing or kayaking. Have an adventure at Islamorada!
Related
Looking for a
party hostel in Hawaii
or
Miami
? Traveling alone to
LA
or
New Orleans
? Want a budget hostel in
NYC
?