Key Largo On a Budget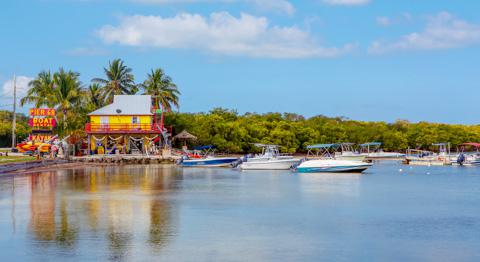 As the lustrous emerald waters ebb and flow against your sandy toes, you find yourself cooled by the gentle breeze as you bask under a golden sun. To you, it's paradise. To everyone else, it's Key Largo. Located in the northernmost of the Florida Keys, Key Largo is known as the dive capital of the world due to its well-preserved coral reefs and clear waters. Just an hour-drive from South Florida's major airports, Key Largo boasts in containing a vast biodiversity, such as tropical hardwoods, creeks, two state parks, a national park, and a portion of a national marine sanctuary. Besides its natural beauty, Key Largo is overflowing with top restaurants and chic boutiques. It is no wonder that Key Largo became a hotspot for Hollywood beach scenes, with even a movie holding its namesake! Whether you look to get your fun by land or by water, there is something for everyone at Key Largo!
Sights
Immerse yourself in the breathtaking scenery of Key Largo at Dagny Johnson Key Largo Hammock Botanical State Park. Dagny Johnson contains one of the largest tracts of West Indian tropical hardwood hammock in the United States. Protecting over 84 animal and plant species, you will be sure to encounter all types of wildlife from swallowtail butterflies and American crocodiles. Dagny Johnson has over six miles of varying nature trailers, proven especially useful for avid birdwatchers. As you saunter through this tropical wilderness, be sure to read up on the information about the park as well as its inhabitants as you bike, jog, or walk. Whether you seek for a new, lively venue for your picnic or simply want to embrace the wonders of nature, Dagny Johnson will surely not disappoint.
Activities
However, your enjoyment for nature does not simply have to go by foot. Jump into the cooling waters of the Atlantic and explore John Pennekamp Coral Reef State Park. Established in 1963, the park was named after the late John D. Pennekamp, a Miami newspaper editor, whose efforts in environmental conservation contributed to the establishments of many parks, including the Everglades National Park. Extending 3 miles into the Atlantic Ocean and approximately 25 miles in length, the park is known for its picturesque reefs, seabeds, and swamps. The park works more as an underwater museum due to its collection of historic sights beneath the water. Because of this, John Pennekamp was added to the National Register of Historic Places in 1972, with such sights including 4000-pound bronze sculpture of Jesus Christ and an authentic reconstruction of an early Spanish shipwreck. Explore the underwater magic of John Pennekamp by kayak, paddleboard, glass bottom boat, snorkeling and scuba diving.
Make an unforgettable memory and swim with the ocean's most playful creatures: the dolphin. At Dolphin Plus, you not only get to visit the homes of these aquatic inhabitants, but you get to learn and interact with them as well. Creating enriching programs to teach the young and old the wonders of the Atlantic, Dolphin Plus acquires a wide range of dolphin encounters. Such encounters include structured swims with the dolphins, guided dolphin tours, shallow water swims with the dolphins, and biology and trainer tours. Kiss, hug, dance, and even paint with these marvelous creatures in order to have an experience you will cherish in your years to come.
Food and Dining
If you are looking for a place to wine, dine, and watch the sunset, be sure to make a pitstop at Sundowners Restaurant. Established in 1985, Sundowners has been a restaurant well known for its sunsets, sandwiches, steaks, and seafood across the Florida Bay. Sundowners allows its patrons to fully appreciate the beauties of Key Largo with its venues in the midst of Floridian nature, including its glass-walled dining room, covered deck, and tropical patio. Open from 11:00am to 10:00pm, Sundowners also is able to furnish parties and weddings. Some of their dishes include lobster bisque, onion encrusted mahi mahi, jumbo lump crabcake, blackwater pasta, filet mignon madagascar, and lightly blackened yellowtail. Be sure to book your reservation in advance as it is quite likely Sundowners will be packed!
Transportation
As most businesses are located on US 1, navigating throughout Key Largo is as easy as a summer breeze. As the population is so small, Key Largo does not have centralized systems for buses or trains. There are a variety of taxicab services throughout the island, but can only be called, not flagged, such as Key Express Cab, Sea the Keys Taxi, and Keys Transportation and Shuttle Service. Key Largo also acquires a wide variety of rental car services including Enterprise, Budget, and Thrifty Car Rental. Whatever you decide to do in Key Largo, be sure to make the most out of its glistening waters and summer weather!
Related:
Looking for a
party hostel in Hawaii
or
Miami
? Traveling alone to
LA
or
New Orleans
? Want a budget hostel in
NYC
?