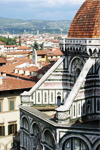 Italy
Italy is, perhaps, the most popular country to visit in Europe. Its cuisine is ubiquitous in most modern cities, it's history has influenced cultures around the globe, and its fashion is emulated by some of the world's top designers. Backpackers, luxury vacationers, cruisers, and tour groups flock to the country to sip the wine, take in the views, and be part of the culture. Whatever your travel style, our travel cost guide will help you make the most of your trip and ensure you're spending less and getting more during your entire vacation.
eBook: Take it with you
This guide is available for download as a PDF eGuide from this website,
or as an eBook on the following devices:
Amazon Kindle
Barnes & Noble Nook

If you puchase the PDF from our website, after downloading, you may print it, or put it on your smartphone or tablet for your travels!
What's Included?
Our travel cost guides are loaded with travel budgeting information from actual travelers, just like you. Guides include money saving tips for each country, average travel costs, and specific examples of prices for common purchases. Charts with typical travel costs help you understand the real costs of accommodation, food, local transportation, and more. Also, a variety of specific purchase examples are listed for each city to help you make better financial decisions while traveling.
The following locations are included:
Italy (including cities)

Rome
Milan
Naples
Palermo
Florence
Bologna
Venice
Verona
Bergamo
Sorrento
Agerola
Positano
Cinque Terre
The guide also includes helpful advice:
Accessing and handling money while abroad
ATMs versus Credit Cards
Avoiding scams and pickpockets